Salted Pistachio with Diplomat box Ta-859| 1 kg pack
Produced in Iran
Pistachio type: Ahmad Aghaei salted pistachio
Beautiful gift pack
With durable and beautiful box
In the package of 1 kg (35.27 ounce)
About Salted Pistachio with Diplomat box Ta-93
One of the high-quality Iranian pistachios is Ahmad Aghaie pistachio, a delicious and high-quality dish that is always smiling and rarely found in the capped pistachios among them.
Ahmad Aghaie's first-class salted pistachio is what your nut dish needs, delicious pistachio with a beautiful appearance and a more affordable price than other stylish pistachios and a parliament that can make your periods saltier. This pistachio is one of those pistachios that are popular all over the world.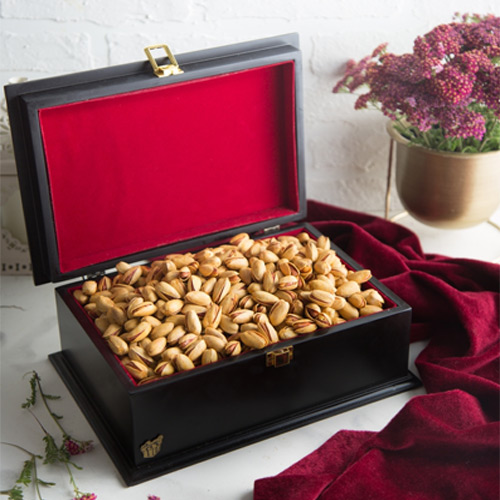 Why CyrusCrafts?
CyrusCrafts™ by an excellent infrastructure background,  professional and specialized activity in the field of sales and export of high-quality vintage and modern Iranian goods to different parts of the world, is now proud to offer you the most peculiar and original decorative and tasty items with the latest transfer processes, Support Customers and after-sales service, responsibly.
Material

salted pistachio

Weight

1 kg (35.27 ounce)