Shamim Organic Gavan Honey Ta-91| 800 gram
Produced in Iran 
Honey type: Gavan honey
Premium honey
Net weight: 800 grams (28.29 ounce)
Overall weight: 1180 grams (41.62 ounce)
Gavan honey is one of the wonderful product that are excellent for many diseases, including digestive problems. Shamim Organic Gavan Honey Ta-91 is recommended for people with high blood sugar due to low sucrose.
Benefits of Shamim Organic Gavan Honey Ta-91
Natural honey is very good for treating joint, bone, and arthritis pains. Due to its formic acid, this honey is good medicine for the treatment of joint and bone diseases, which is used orally and rubbed on the painful area.
Gavan honey is useful for treating anemia, and its regular consumption at breakfast can help blood formation in people with anemia.
Consumption of this honey softens the larynx and throat and in cold days of autumn and winter can have a great effect on dryness and burning of the chest and larynx.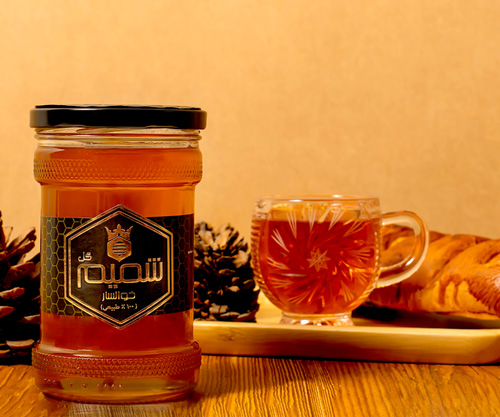 Why CyrusCrafts?
CyrusCrafts™ by an excellent infrastructure background,  professional and specialized activity in the field of sales and export of high-quality vintage and modern Iranian goods to different parts of the world, is now proud to offer you the most peculiar and original decorative and tasty items with the latest transfer processes, Support Customers and after-sales service, responsibly.
Weight

800 gram (28.29 ounce)
You might also like
Tasty!
Ta-210
Produced in Iran (south Khorasan) Low sucrose Suitable for diabetics In package of 1 kg (35.27 ounce)  
Tasty!
Sorayyaei
Ta-301
Produced in Iran (Ardabil) High quality honey With metal box In package of 1 kg (35.27 ounce)
Tasty!
CyrusCrafts™
Ta-385
Produced in Iran (Fras province) Natural and raw honey In package of 1 kg (35.27 ounce) With oliveria decumbens