Have Fun with Adult Party Games
Friends and family gatherings are always one of the most enjoyable parts of life, allowing us to get away from our daily routines for a short time. Parties are not only for seeing and visiting and can become one of the most memorable days of our life with a bit of fun. It is enough to travel to the world of adult party games for a few hours and create fun times for ourselves and those around us by playing attractive group games. For this purpose, the CyrusCrafts team has considered a list of the most popular games so that we can easily make our holidays and parties last for ourselves and our families. These games include: 
House party games for adults
Outdoor party games for adults
Board games
and games without special equipment
If you are an adult and want an entertainment game for your memorable night, which one do you like more? Stay with us. 
Diy adult party games
Diy adult party games are the first category that we want to introduce. If you are into exciting games, you will choose your favorite game from this section with a 99% probability after reading this part. Because these games don't require special tools and if you are not very demanding, you can easily make them yourself or prepare them in the shortest possible time in the easiest ways.
Another thing that attracts your attention to these games is that you can play most of them at home, in your backyard, or even in the garden.
Balloon and cup game
It doesn't matter how many people you have; balloon and cup game can entertain you for an unlimited time and bring you happy moments. You need as many balloons as the number of people at the party for this game. And also to several cups. These cups should be in two different colors.
At the start of the game, you have to blow up the balloon and take the glasses with it. In the end, whoever lifted the most cups is the winner of this exciting game.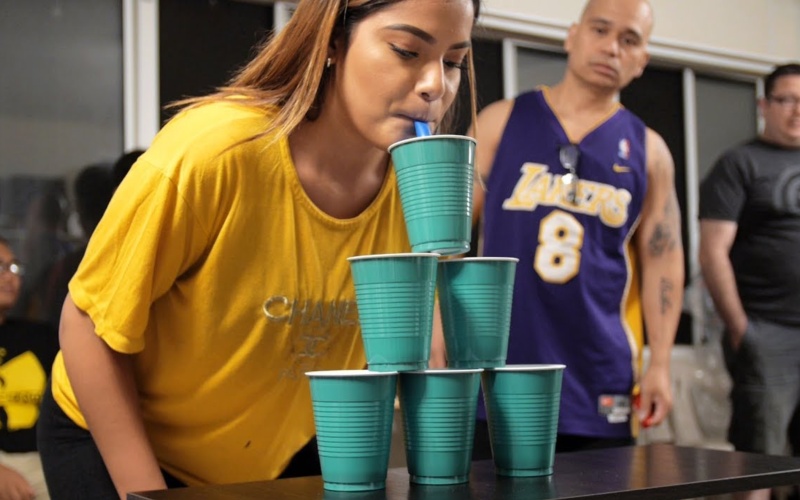 Move on top for adult party game
It doesn't matter if you have a small or crowded party, because this game can be played by two people or more. This game has no time limit. You can enjoy this game for an unlimited time. The tools you will need to enjoy this fun game are 28 plastic cups and two colored plastic cups (you can use colored glue to mark the cups.)
To begin this game, players will have 15 cups stacked with a gold-trimmed cup at the base. To inch the gold-trimmed cup upward, the player must alternately move the cups from top to bottom. Eventually, the gold-trimmed cup will reach the bottom of the bowl again. Whoever completes this process in the shortest time wins the game.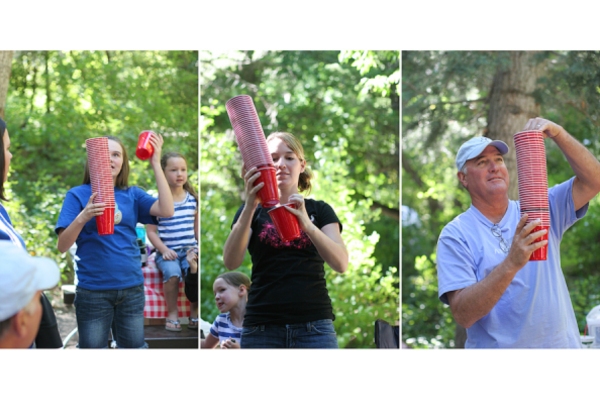 Glow in the dark ring toss game
Test your accuracy in the dark with this game. After the game is over, you will get interesting results, and it will also be enjoyable for you and your guests.
For this adult party game, you need a few empty bottles; it doesn't matter what kind of bottles they are. It can be plastic or glass. If the bottle is too light, pour some water into it, so it becomes heavy and does not move. Stick neon strips around the bottle, as shown in the picture, so they are visible in the dark.
Also, get as many black-light bracelets as you want. Now turn off the lights and stand away from the bottles. Try to throw the bracelets at the bottles so that the bottles are inside the rings.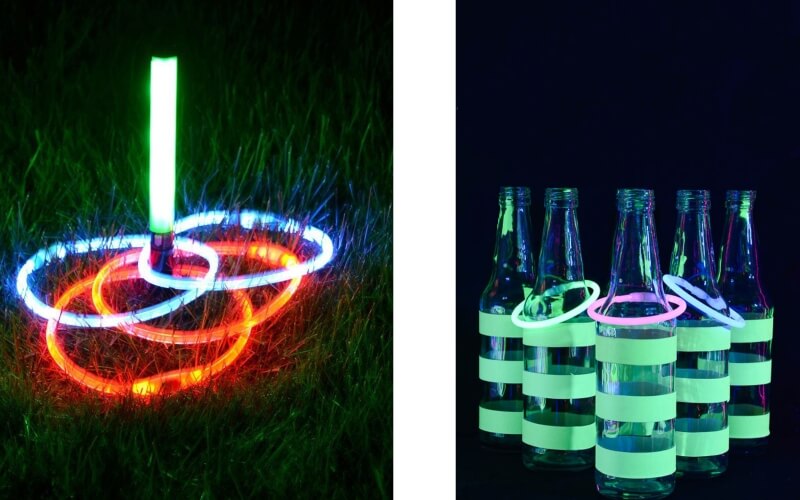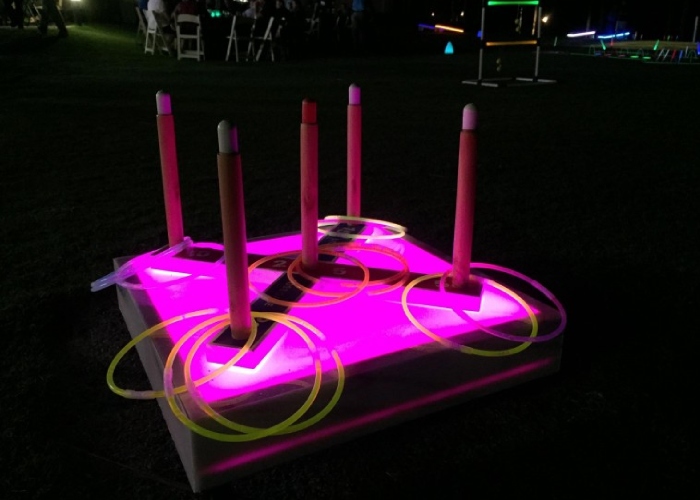 House party games for adults
Games remind us of sweet memories and happy times with friends and acquaintances. So, it is better to experience exciting games on the days when we are together and make memories of the party ahead of us. In house party games for adults, we introduce you to two examples of two-person board games, one example of a group game, and one exciting game. 
Play chess for adults
Chess is one of the two-player board games for guests not interested in crowded and crowded games. And they also want to apply a little strategic thinking in addition to being happy at the party. You can enjoy seeing beautiful and valuable chess pieces in the handicrafts section of the CyrusCrafts online store.
If you are interested in chessboard but don't know how to play, we should mention that never too late to learn to play chess. We suggest you read the article How to Play Chess Professionally before holding a party and defeating your opponents in a chess game.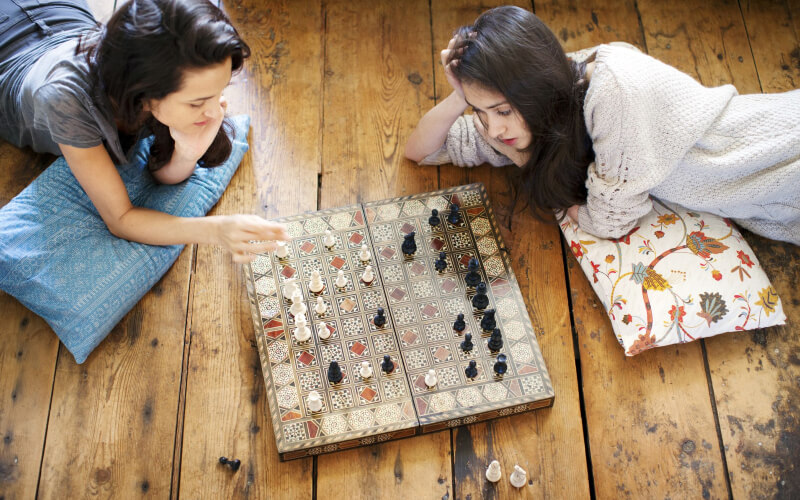 Spin the bottle in different version
This version of Spin The Bottle differs from what you played as a teenager. Sit together in a circle in this game. Place a bottle in the middle of the table. One person spins the bottle to start. When the bottle stopped rotating. The person facing the bottle has two choices:
If a person chooses courage, he must do what is asked of him. It must be said that these activities are more fun and entertaining; for example, you can ask him to read a poem in a child's voice, and this will definitely make everyone laugh.
And if a person chooses the truth, he must give an honest answer to the question that is asked.
There is no time limit for this group game; you can play it for hours. Use creativity in the questions and things you want the person to do to create an unforgettable memory at your party.
Backgammon as a house party game for adults
Backgammon is another strategic board game with a small percentage of luck. It is perfect for your special guests who are interested in strategy games. In this game, both players try to remove their pieces. At first, each player's pieces are placed in the opponent's fields, and by throwing the dice, each opponent must remove his pieces earlier than his opponent. Take out the field to win the game. Read the article How to Play Backgammon to defeat your opponent with a professional game at a party.
Playing on handmade backgammon board is enjoyable because of its beauty and high quality.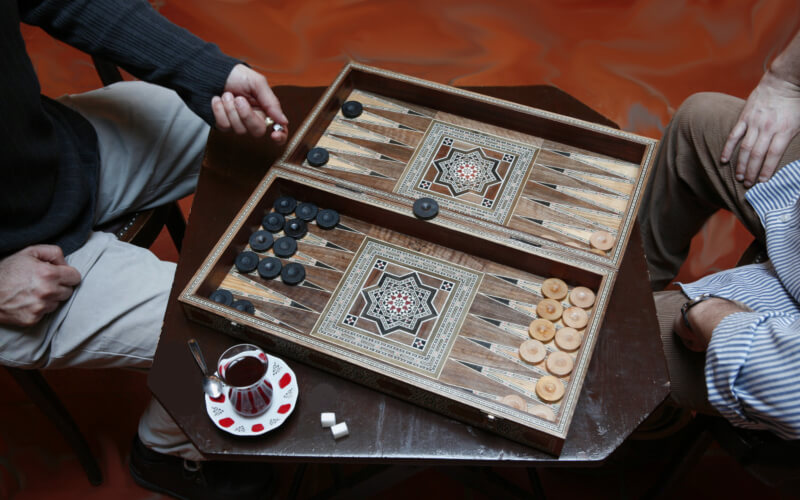 Jenga for adult party games
The game of Jenga requires both physical and mental skills. Played across all cultures and ages, Jenga is based on the simple concept of stacking blocks. Play value is the key to Jenga's success. During the game, players take turns removing blocks from towers and stacking them on top, resulting in increasingly tall and unstable structures.
Outdoor party games for adults
If you plan to eat some fresh air at parties or prefer the open space to the closed space of the house for the party, but you still want to have exciting games, we will discuss them in this section.
Maybe you ask yourself which games are better to play outdoors. In answer to your question, the CyrusCrafts team says that the games played at home can usually be moved outside the house. Still, the games that need a more expansive space or may pollute the environment are usually better to be done outdoors.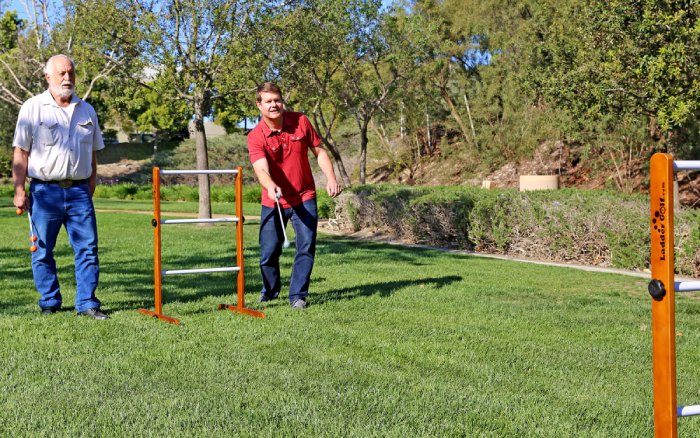 Bite the donut game (Donut hunting)
Set aside some of the party donuts for mid-party entertainment. Go hunting for donuts with your eyes closed.
This game is like hanging the donuts from somewhere with a string and asking the participants to close their eyes or cover their eyes with a cloth. Then you should try to eat the donuts.
Blowing up balloons as an outdoor party games
All you need for this fun party game is some balloons and a rope.
Blow up some balloons and tie them to your leg with a rope. You have to try to burst the competitors' balloons with your foot, take care of them, and don't let anyone damage them. At the end of the game, the one whose balloons were intact is the winner of the game.
You can repeat this several times and make a good time for yourself and your guests.
CyrusCrafts' last word about adult party games
Maybe not everyone in the crowd likes the idea of group gaming because they haven't had much fun in their previous experiences. But in this article, we tried introducing the most straightforward and attractive games. Don't forget to take pictures of your guests during the game. Reviewing the moments when you had fun together and tried to win will be enjoyable for you in the future. We hope these few adult party games provide you with happy and enjoyable moments. Please let us know if you know a game for adult games.
---
Product added to compare.