Toronto is the capital of Ontario and the fourth most populous city in North America and the most populous city in Canada. From museums and galleries to the famous CN Tower, this city offers a wide array of tourist attractions. Let us take you on a tour of the sights of Toronto that attract every soul...
Aside from these attractions, Toronto has an entertainment hub, the "Entertainment District" which performs art and music shows. There is no doubt that Toronto's historic Distillery District is the second most famous neighborhood in the city. There is an abundance of attractions within walking distance of downtown Ontario, and the subway system is available for commuters and residents alike. LTFB…
1 – The CN Tower (Tour CN)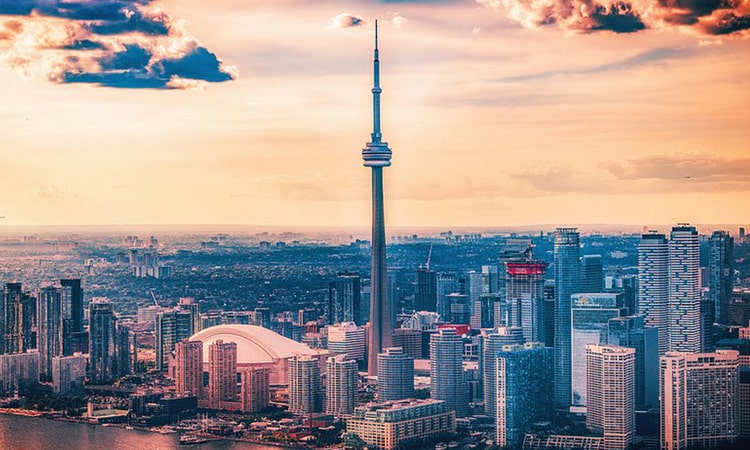 There is no doubt that the CN Tower is Toronto's most iconic urban symbol. 553 meters high, this tower is one of the most important sights of the city that should not be missed. There are almost no places in the city where this tower cannot be seen since it is located over the central area. Visitors can enjoy the tower's height and beauty from below. They can also enter the tower to observe the views of the city, or even eat in one of its restaurants. These restaurants provide stunning views of the city including Lake Ontario. CN Tower, built between 1972 and 1976, was once the tallest free-standing structure (not attached to another building) in the world, but it has since lost its title.
"Sky Pod" is located at the height of 447 meters on top of the CN Tower. If the sky is clear, this point provides a wide view of the surrounding area, including New York State and Niagara Falls. There are two elevators that take you to this area. The "Horizons" restaurant is situated in the viewing area referred to as "Look Out" located above the main lift at an altitude of 346 meters. A simple atmosphere can be found at this restaurant, which opens for lunch and dinner every day. Under this section is an area called "Glass Floor", where people can see the city view from below their feet.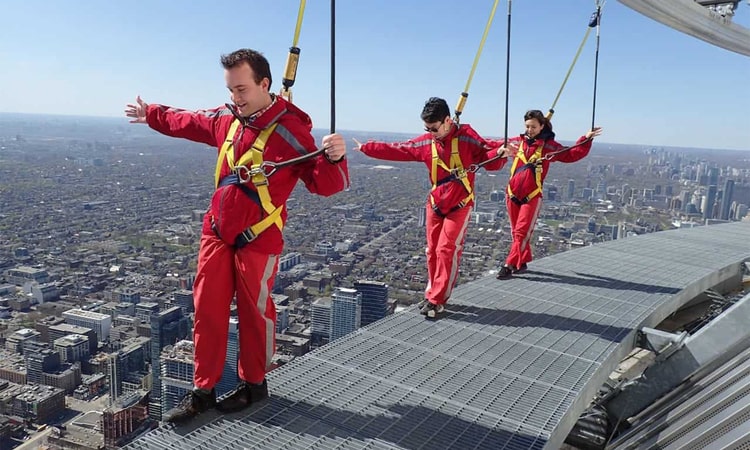 This tower offers a section called "Edge Walk" for those seeking adventure. There is a 1.5-meter-wide strip around the outer edges of the building and it has a height of 365 meters. Visitors can walk on this high edge and test their courage. An altitude of 351 meters distinguishes the 360 Restaurant. The best view in all of Toronto can be found at this luxury restaurant. The restaurant is open for lunch and dinner, and guests who dine at the restaurant will have access to the Look Out and Glass Floor areas. It serves some of the most delicious foods in the area including Ancient Grains (Millet, white and wild rice), Sautéed Asparagus (Duck prosciutto, tarragon butter), PEI Mussels (Saffron, tomato, sourdough), and much more…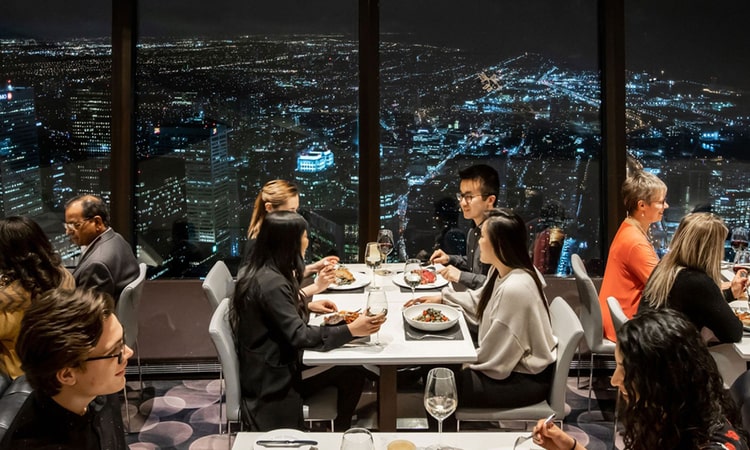 Here are 3 fun facts about the CN Tower:
The CN Tower was classified as one of the Seven Wonders of the Modern World by the American Society of Civil Engineers in 1995.
The Tower took 40 months to build and cost $63 million.
The 360 Restaurant takes 72 minutes to complete one full revolution.
2 – Royal Ontario Museum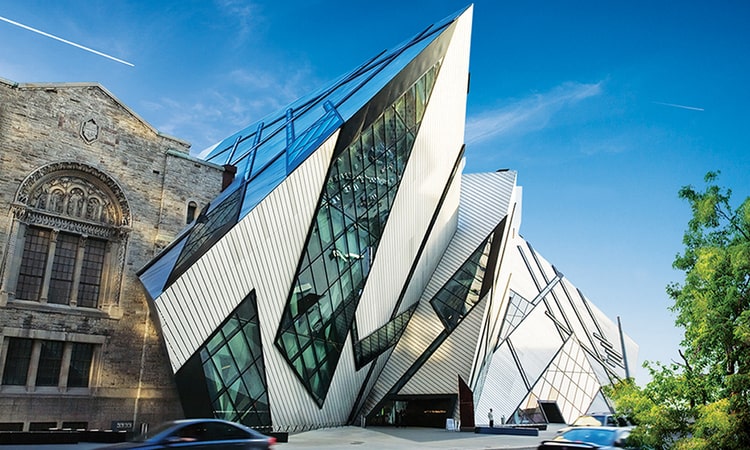 The Royal Ontario Museum showcases art, commonly known as the ROM. Founded in 1912 and opened to the public in 1914, the museum has an internationally renowned reputation. Exhibits from all over the world are displayed in this museum. The collections are outstanding and unique. The Museum expansion has been controversially carried out, adding a modern wing to the old structure. Various historical periods and works from all over the world can be found in this museum. Among these are the world's largest collection of fossils from the Burgess Shale, Ceramic Dishes from Old Persia, Surya from India, Etc. If you are interested in the history and culture of different countries and cities, we recommend visiting Hamedan, the capital of Iran's history and culture.
3 - Rogers Centre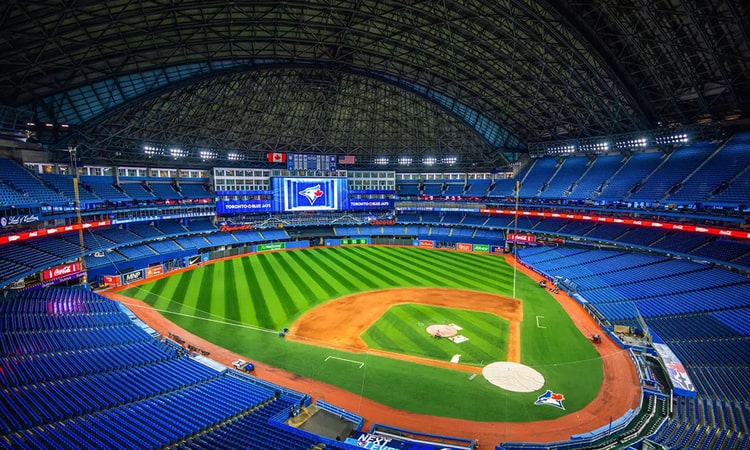 Downtown Toronto's Rogers Centre (originally SkyDome) is a retractable roof stadium used for a variety of purposes. In favorable weather, the stadium's roof moves away and opens. The superstructure construction for this stadium was completed in 1989 and was inspired by the Olympic stadium in Montreal.
In addition to hosting football and baseball events, Rogers Center can host thousands of spectators. Additionally, this stadium hosts rock and pop concerts. During one-hour guided tours of this sports complex, you can learn what goes on behind the scenes and the facilities.
4 - Art Gallery of Ontario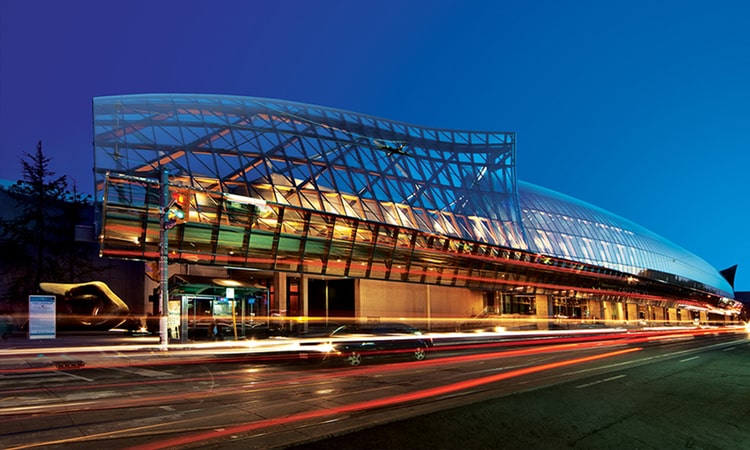 Located on the west side of downtown, the Art Gallery of Ontario, abbreviated as AGO, is one of the most famous art galleries in the world. Each year, this gallery hosts a series of valuable permanent exhibitions. Among the best works in the gallery are European, Oceanic, African, and Canadian art collections. Among its many highlights are the world's largest public collection of works by internationally renowned British sculptor Henry Moore.
5 - Casa Loma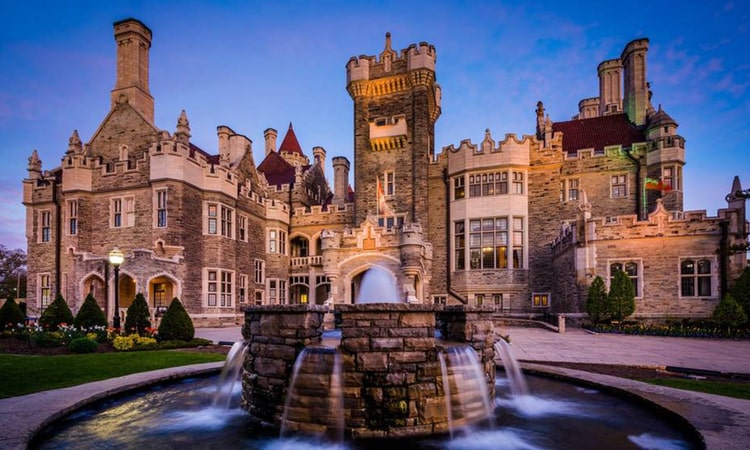 Casa Loma is a Gothic Revival castle-style mansion and garden in midtown Toronto. Originally built for Sir Henry Pellatt, a wealthy Canadian, the palace now houses the Canadian Museum of History. As the first person to realize Niagara Falls' income-generating potential, he exploited it economically. Almost 100 rooms are included in this large complex, along with 36 bathrooms. This museum allows visitors to experience the glory era of Europe. This spectacular building has ornate suites, secret passages, tunnels, towers, and several acres of gardens.
6 - Toronto Zoo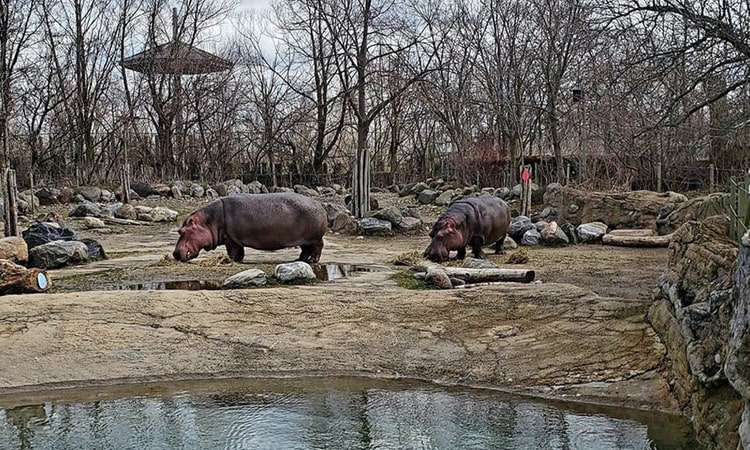 The Greater Toronto Zoo has a collection of several thousand different animals, which is located along the Red River, 40 kilometers northeast of the city center. One of the most important sights of this zoo is the panda section, which was opened in 2103. The zoo is divided into several parts and each of these parts shows one of the important regions of the world. For example, North America has a large protected area for grizzly bears. Other important parts of the zoo include the African Savannah and the Great Barrier Reef.
7 -  St. Lawrence Market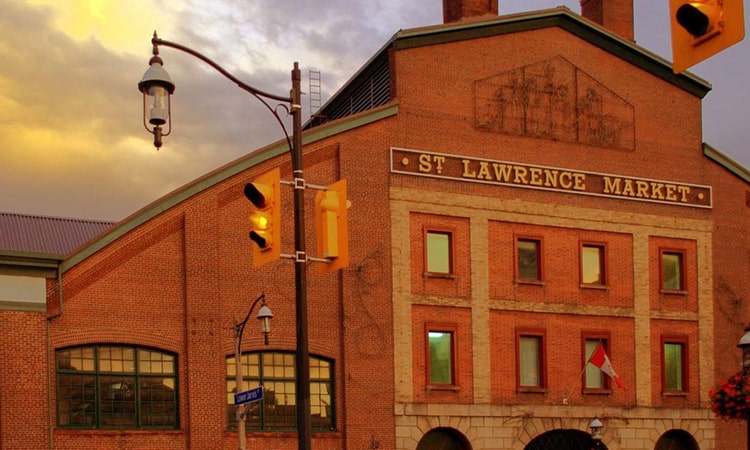 A variety of vendors sell products at the St. Lawrence market, including food, flowers, and special items. As a public venue for meetings and concerts, St Lawrence Hall was built in 1850. This hall was renovated in 1967 and has almost fully recovered its former glory. In addition to its attractive atmosphere, the bazaar has been used for a variety of movies and TV shows. Its interior has a large staircase and a chandelier.
8 – Neighbourhood: Entertainment District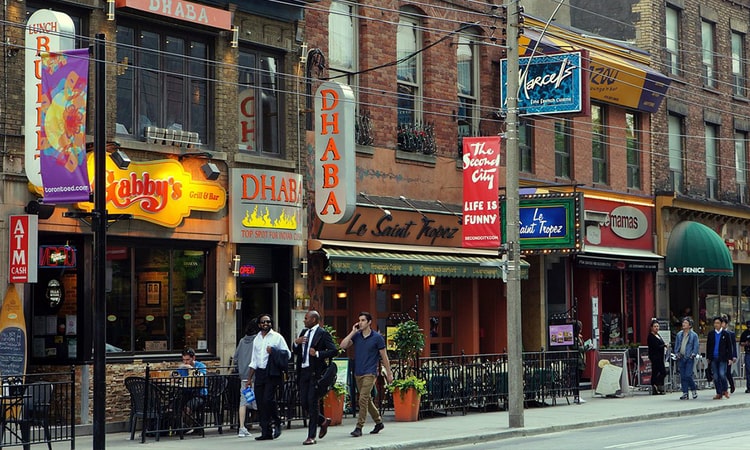 Toronto's entertainment district is similar to New York's Broadway neighborhood. At night, this area takes on a different vibe. In this area, you'll find the hottest theater and music shows. Other recreational attractions in this area include restaurants, gathering places, friendly and social gatherings, as well as performing arts. This area has also been developed with hotels and shops.
9 - Ripley's Aquarium of Canada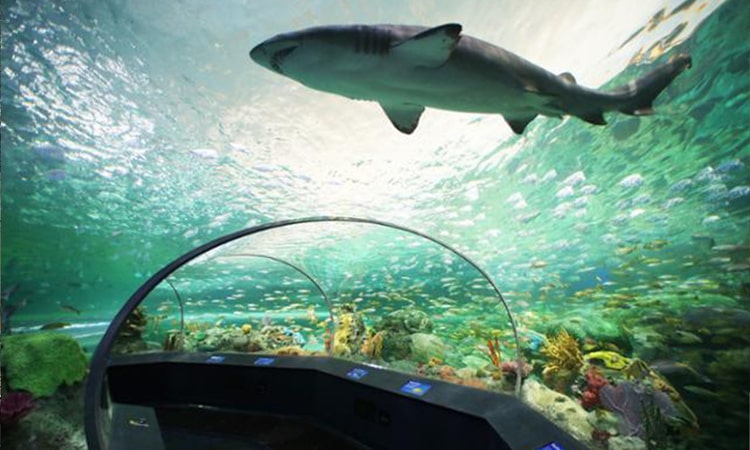 Near the CN Tower is Ripley's Aquarium, one of Toronto's newest attractions. There are all kinds of sea creatures on display at this spectacular and amazing attraction. There are many passages in the large underwater tunnel in this aquarium, which is one of its most spectacular features. The aquarium allows visitors to see whales and sawfish swimming above the tunnel ceiling as they observe the underwater world around them.
People of all ages enjoy visiting this aquarium due to its tranquility and attraction. The aquarium's starfish show, which is accompanied by creative lighting, is one of its most popular features. This amazing aquarium's architecture and design alone make it so interesting.
10 - Toronto City Hall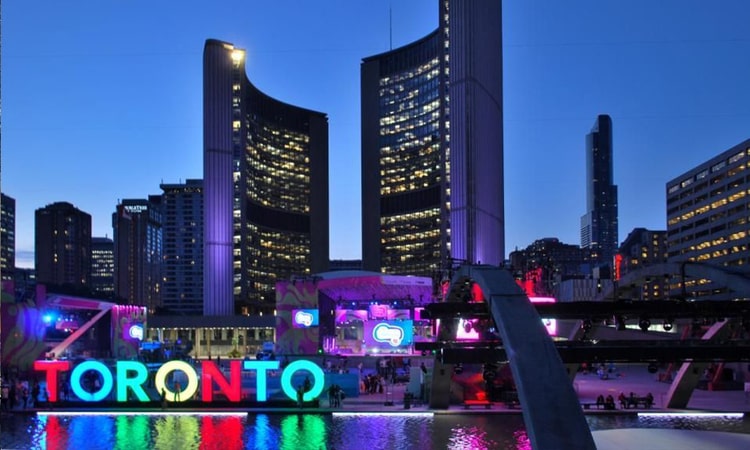 The city hall overlooks the wide Nathan Phillips Square. There is a bronze statue in this square honoring Nathan Phillips, a Canadian politician. Viljo Revell was the architect who designed the city hall. The building was built in 1965. The square and area around the building have been built with a large pond that is used as an ice skating rink in winter. The Christmas decorations around this building and square are beautiful.
11 - CF Toronto Eaton Centre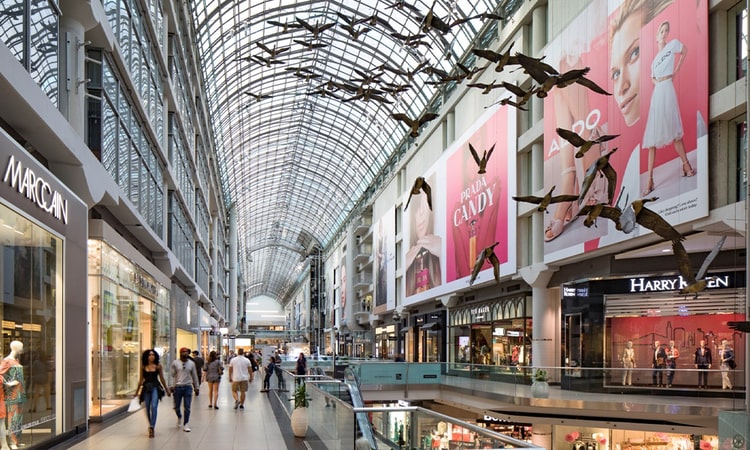 In the northern part of downtown, there is the Eaton Center, a large shopping mall. It is a state-of-the-art shopping center spread over several blocks with its own subway station that is constantly renovated and expanded. It is easy to lose one's way in the maze of brand agencies, boutiques, restaurants, and cafeterias when visiting this center for the first time. Over and below the ground floor, there are several commercial and entertainment centers. In 1869, the original Eaton's Mall opened in Toronto, and today it is a sprawling shopping complex.
12 – The Distillery District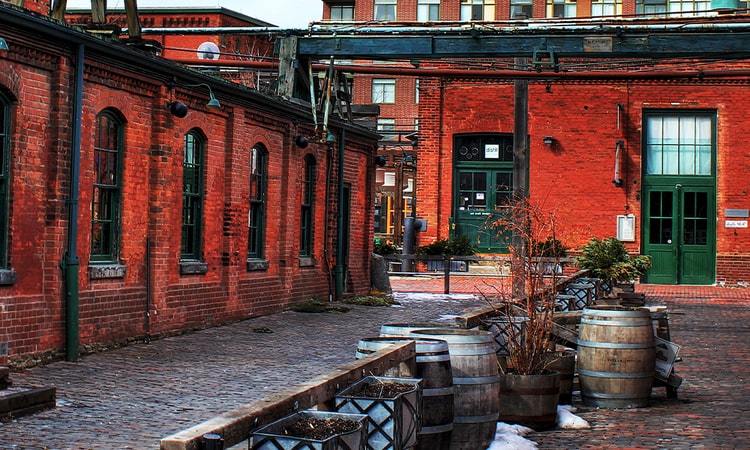 This area is a renovated old area that today serves as one of the city's best shopping and entertainment areas. Restaurants, boutiques, galleries, and art studios can be found here. Distillery District is one of the most attractive areas for sightseeing in Toronto, hosting many entertainment and art events.
13 - High Park Toronto
 
There are many beautiful gardens, natural paths, and bridges in High Park. A person named Howards originally owned this collection, and it was given to the city of Toronto in 1873. The park has actually been given to Toronto citizens for free use for their entertainment under the name "High Park". The park's attractions include breathtaking pools, ponds, fences for keeping animals, playgrounds, picnic areas, and train tours. In this beautiful green space, you will also find Howard's Mausoleum and 19th-century gardens.
Every year, a company called "Canadian Stage" performs shows in the outdoor part of the park in July and August, the event is called "Shakespeare in the Park".
14 - Ontario Science Centre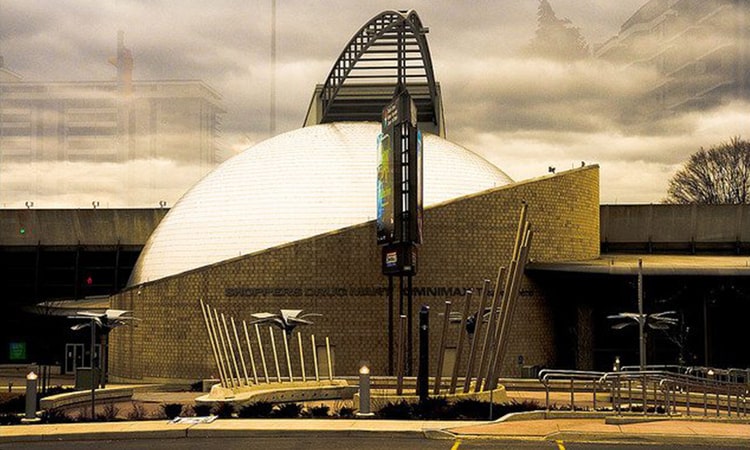 Children will enjoy many exciting exhibits at the Ontario Science Center as a family-friendly tourist attraction. Located northeast of the city center, this center overlooks the "Don Valley". Its design was created by Raymond Moriyama. Finished in 1969, this building is a modern marvel. It exhibits the latest technological advances, telecommunications, optics, biology, physics, space travel, meteorology, and other sciences. A spectacular exhibition showcases all of these achievements. Visitors are encouraged to participate in these exhibits, and many interactive displays are in the center.
15 - Toronto Islands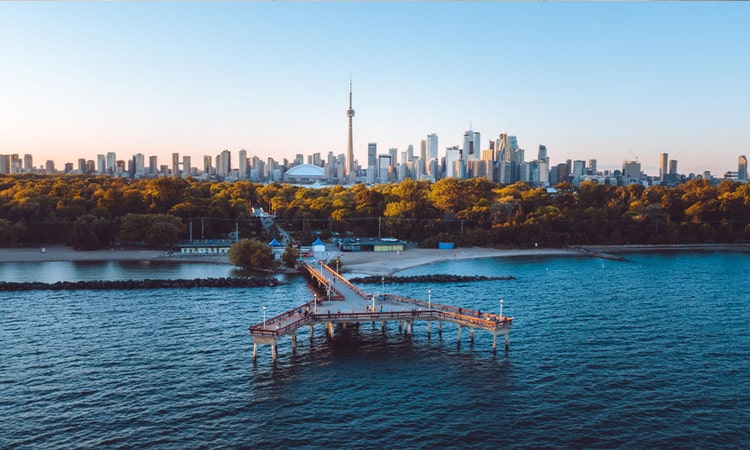 Barge travel to the Toronto Islands is available from Queen's Quay station, which is about half a mile away from the coast. Among the recreational facilities on this island are hiking trails, boating, swimming, and other outdoor activities. Other features of this island include sea promenades and villas. All of Toronto's main islands are served by Toronto Islands Barges, which depart from Queen's Quay terminal.
16 - Hockey Hall of Fame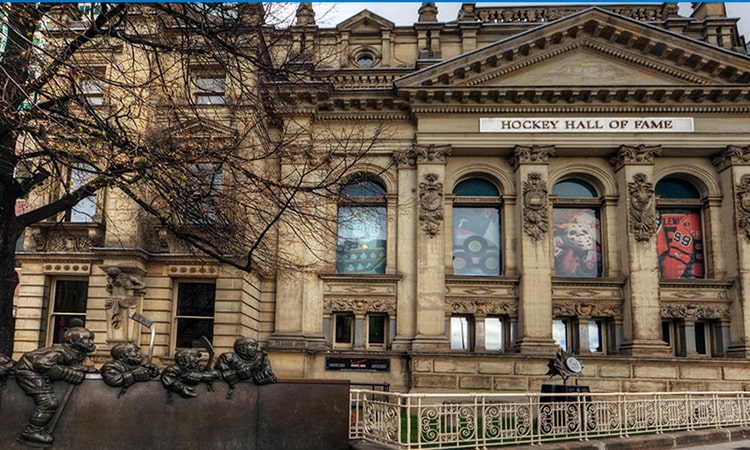 Here you can see memorabilia from sports around the world, as well as interesting records and information about hockey. Another part of this collection that hockey fans will enjoy are the interactive games, multimedia stations, and exhibitions of the best hockey players. It contains information about National Hockey League (NHL) players, teams, records, and Stanley Cup achievements, among others.
17 - Niagara Falls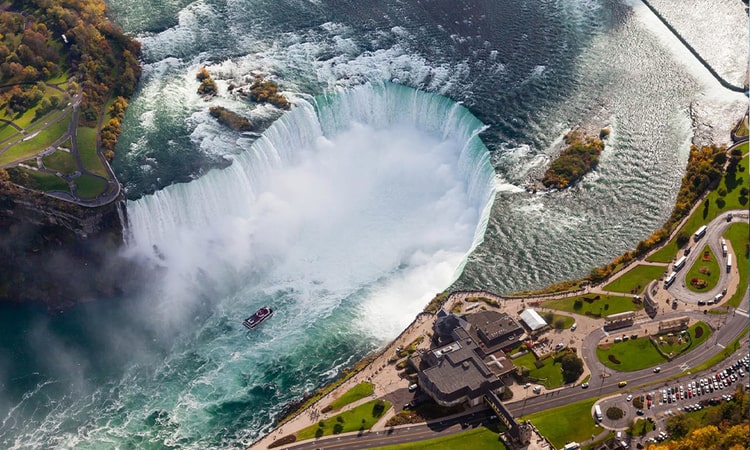 In spite of the fact that Niagara Falls is not located in Toronto, it is only about an hour and a half away. There are many tours from Toronto that allow you to see Niagara Falls, one of the most important landmarks in Canada. In addition to hotel pickups, these tours usually include a ride on a boat at Niagara Falls, lunch, a view of Whirlpool Rapids, and a visit to Niagara-on-the-Lake.
18 - Canada's Wonderland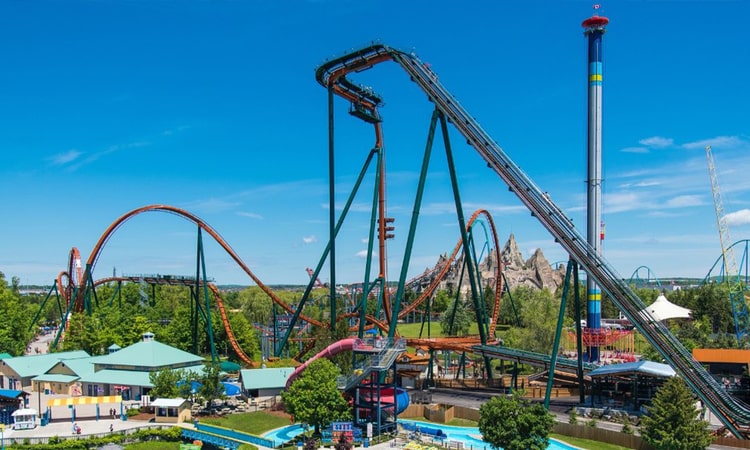 The theme park is located outside of Toronto. In addition to 70 fun and exciting entertainment facilities, this amusement park is very attractive to thrill-seekers and adventure seekers. The complex also includes a water park called "Splash Works". This park contains exciting amusement facilities including roller coasters, some of which are unique to Canada. It is the country's premier amusement park with more than 200 attractions, featuring 17 roller coasters including the world record-breaking dive coaster Yukon Striker.
It is a good idea to consider Toronto as your next vacation destination and CyrusCrafts recommends hotels that are both reasonably priced and not too far from these places; starting with Toronto Don Valley Hotel & Suites at just $115 a night, Hampton Inn Toronto at just $118 a night, and Homewood Suites at $195 a night.
Now for the termination, our online shop provides handmade Iranian crafts and foods at a fair price. We do offer a wide range of products, such as woven silk rugs, decorative plates and vases, metal and wooden ornaments, delicious snacks, and so much more... You won't want to miss out!

Comments (0)
No comments at this moment