Every city in Iran has its souvenirs. The most famous souvenirs of Iran, which tourists usually buy, are artistic handicrafts made with the love and passion of their creators and with great effort. Just walk into one of the historical markets of Iran to see hundreds of special and unique souvenirs of that region. In this article, we have provided you with a list of Iran's best and most popular souvenirs. Souvenirs that tourists usually buy during their trip to Iran. Find out about the Persian souvenirs list by staying with the CyrusCrafts team.
The quality and importance of Iranian handwoven fabrics vary depending on the city you visit. For example, Isfahan's handwoven fabrics, which are produced with geometric patterns, flowers, and plants, are one of the most famous souvenirs of Iran and have many fans among tourists. Decorative fabrics are made of wool, woven by hand, and dyed with natural colors. You all know Persian Termeh or cashmere! This fabric, produced in various forms such as wallets, shoes, tablecloths, and even jewelry boxes, is considered one of the most famous handicrafts of the historical city of Yazd. Tourists commonly purchase these colorful handwoven fabrics from Iran as souvenirs.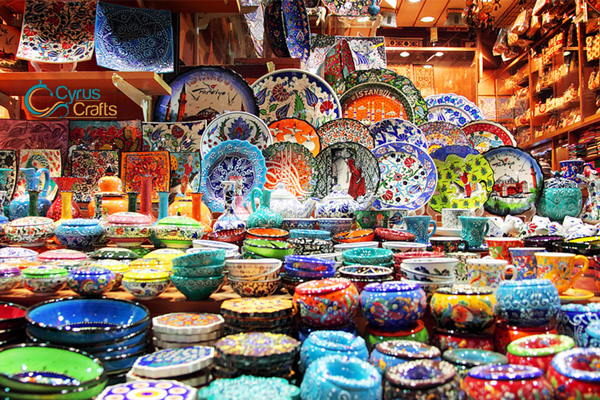 Giveh as a souvenir
Giveh is a traditional shoes for men in Iran, primarily seen in the mountainous areas of the Zagros Mountains, including Kermanshah city. The best type of these traditional shoes is usually made of a leather sole and woven wool upper. Because of their seams, Givehs are used a lot by the local people of Zagros in the summer season. Fortunately, the young artists of the western cities of Iran have again drawn the attention of the youth to this material heritage of the country by designing modern fashion and up-to-date clothes. Of course, foreign tourists don't buy these shoes to wear! They hang these unique works of art on the walls or shelves of their homes, and when they see them, they are reminded of the rich culture of Iran.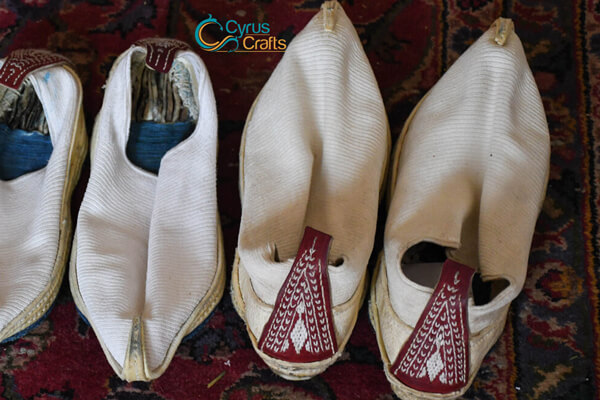 The Best Souvenirs Of Persian tasty 
Iran's sweets and nuts are very famous among tourists with stomachs worldwide! Many go to Qom to buy the best Sohan candy or to Isfahan to buy the highest quality type of Gaz candy. Nuts and especially Iranian pistachios have many fans among travelers. Apart from Gaz, Sohan, and Pistachio, every city in Iran has its own famous and unique sweets that have gained remarkable popularity among visitors and even domestic tourists. In addition, one of the most famous souvenirs of Persian tasty is saffron or red gold. Persian saffron is the best saffron in the world and is exported to many countries. The rose water, mostly cultivated in Kashan, has its traveler fans.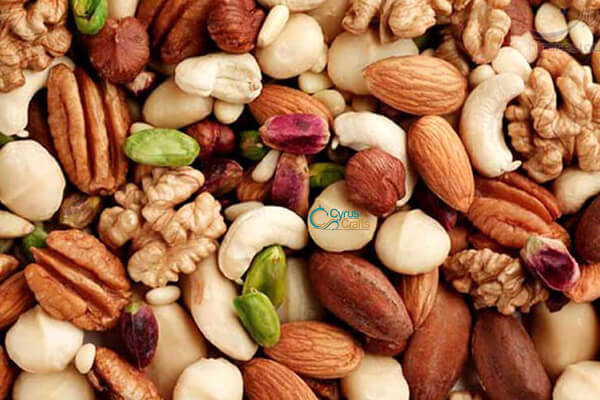 Kerman pistachios
Among the nuts and souvenirs of Iran, sometimes called green gold, is Pistachio. Kerman, Damghan, and Sabzevar pistachios are prevalent in Iran, and many tourists buy them when they travel to these cities.
These tasty nuts prepared for sightseers have clean and beautiful packages. The pistachio harvest season is September and early October; you can also buy fresh pistachios at this time. Fresh pistachios are tastier than dried pistachios.
Persian Saffron: Red gold souvenir
One of Iran's most famous and expensive souvenirs and spices worldwide is Persian saffron. However, saffron is planted in countries such as India, America, Spain, Italy, and some North African countries. Iranian saffron has good value and quality, among others.
In Iran, saffron is planted in the cities of provinces such as Khorasan and recently in other provinces. One of the most attractive tours organized for travelers during harvesting saffron flowers is accompanying tourists with farmers to pick this valuable flower. Because of the high value of saffron, it is also called red gold.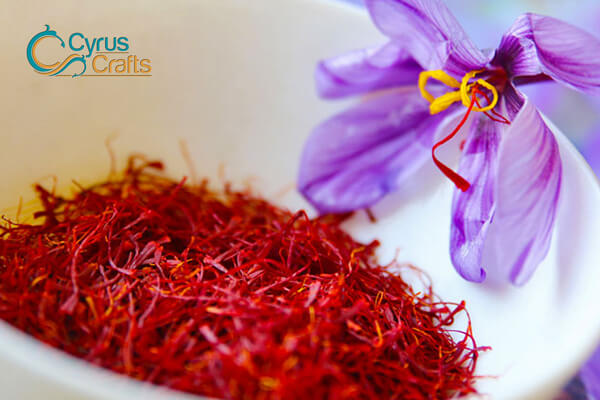 Date fruit as Persian souvenir
Dates are among the fruits grown and produced in the hot and humid regions of southern Iran. Exported dates have opened their place among Iran's souvenirs, and tourists who travel to this region of Iran should buy a box of dates for their friends and relatives as souvenirs. Visiting southern Iran's groves has a warm and attractive atmosphere for visitors. Also, Khuzestan date fruits are of very high quality.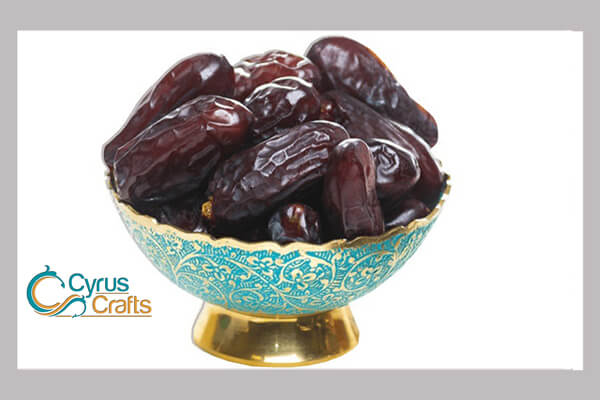 Persian tea
Persian tea is another valuable Iranian souvenir. Iranian tea is cultivated in northern Iran and has a great appetite and taste. We recommend that you try it. If you want to get more information, be sure to read the Persian tea article.
Persian handwoven rug: A luxury souvenir
We all know that Iranian handwoven rugs are among the most popular souvenirs of Iran. These carpets are usually costly, but if you buy one, you can purchase something smaller and cheaper, like a small rug. Passengers mostly buy carpets or small rugs to fit in their luggage easily.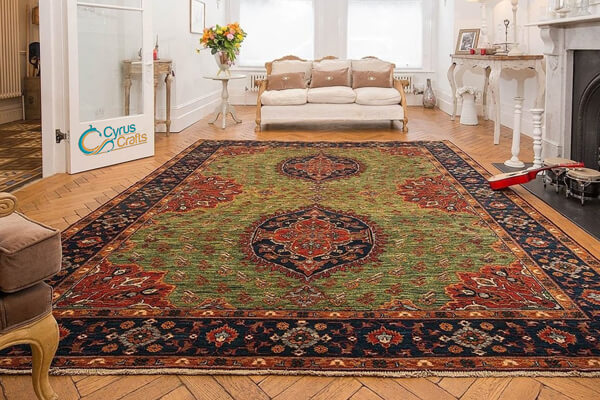 Enamels as perfect souvenirs
Enamel is another popular Iranian product among tourists. When you travel to Isfahan, you will understand why this city is called half the world. It is not surprising that the most famous handicrafts of Iran have come from this city.
Decorative plates or enamel dishes are copper crafts that are decorated surfaces beautifully with miniature birds or flowers. A thing is usually blue, but green and red colors are also found in the market. You can get vases, plates, cups, and other enameled decorative items in the Isfahan market and in other Iranian cities.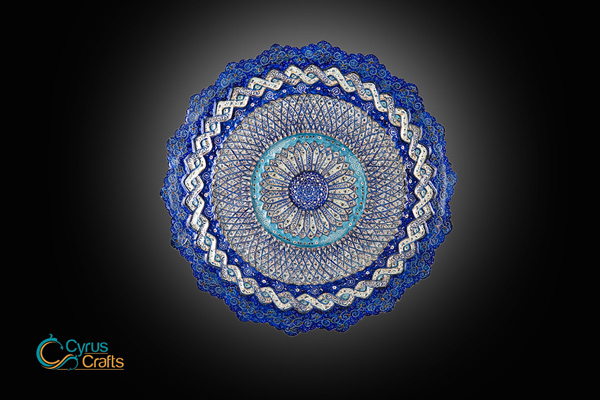 Khatam Kari souvenir
Khatam Kari souvenir is one of the most famous wooden handicrafts in Iran. Inlaid products are created by combining wood, metal, and bone. These decorative products dazzle every viewer's eyes. These inlaid decoratives usually include:
Jewelry boxes
Decorative vases
Photo frames
Backgammon boards
and etc.
Tourists usually buy Iranian inlays for their friends and family as souvenirs and gifts.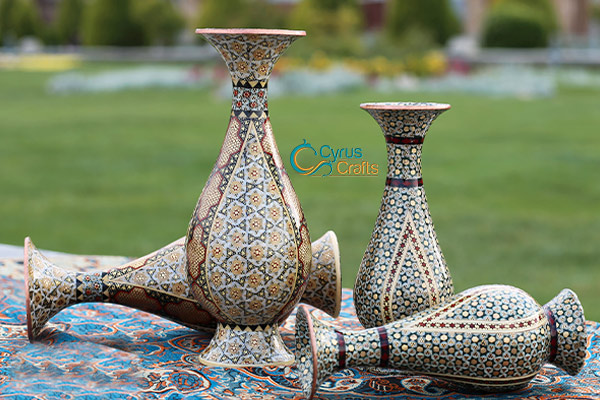 pottery souvenirs
When tourists visit the Museum of Ancient Iran in Tehran, they realize the importance and antiquity of pottery in Iran. As soon as many leave this museum, they ask their guide to take them to a shopping center to buy Iranian jars! Cities such as Lalejin, Hamedan, Meybod, and Natanz are among the most famous cities where the pottery industry is prevalent. Clay dishes are the other one of the most popular souvenirs of Iran.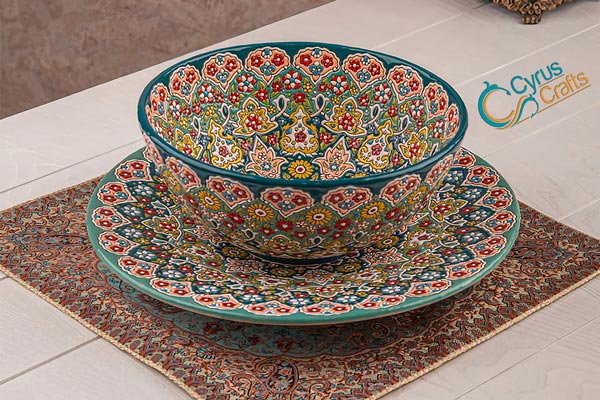 Turquoise inlay as souvenir
The city of Neishabor in the northeast of Iran has the best turquoise stones in the world. Turquoises from the mines of this city are beautifully carved and used in products in different ways. These turquoises are also pounded into copper crafts in the form of the art of turquoise inlaying, and create one of the unique souvenirs of Iran for tourists.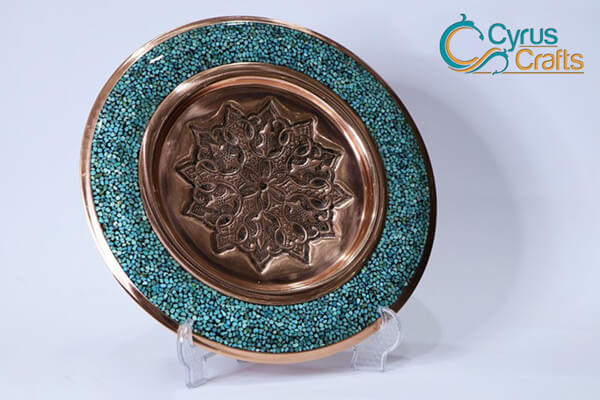 Turquoise accessory
Turquoise is one of the blue jewelry stones that can only find in certain parts of the world, including Iran. The name of turquoise and turquoise color is taken from the color of this stone among the old painters. They obtained turquoise color from the powder of this stone, which was very expensive. Neyshabur turquoise stone is used to make all kinds of pieces of jewelry. 
To distinguish Iranian turquoise from Tibetan and American turquoise, you can pay attention to the dark and rough veins in Iranian turquoise.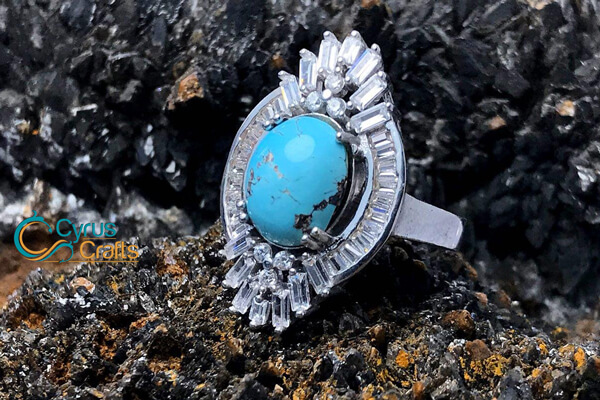 Traditional clothes of Iran
In all parts of Iran, men and women wear beautiful, hand-embroidered, and colorful traditional clothes woven from expensive hand-embroidered fabrics of cotton, wool, linen, etc. The beautiful clothes of the Turkmens, the colorful skirts of the northerners and the Gilkis, the embroidered tight pants of the women of the south of Iran with their colorful and cool clothes, the colorful shirts of the Ler and Kurdish peoples of our country with beautiful headbands and scarves. All of them are the most beautiful clothes and souvenirs of Iran.
Many tourists in any part of Iran can wear local and traditional clothes from the same region and take beautiful photos. You can even buy local Iranian clothes in most tourist spots in Iran, such as Abyaneh, Masoleh, Turkmen Sahara, and other places.
Iranian miniature for souvenir
Sightseers are very surprised and excited to see Iranian souvenirs, especially miniatures. They spend hours staring at the works of Iranian painters in the miniature shops of Isfahan and finally buy the most beautiful products. These painters have different painting backgrounds. Even miniatures are used on decorative containers and cases, which multiplies the value of that container.
Miniature art and miniature painting is an art that can be seen in Japan, the Far East, and China, besides Iran. But it is only in Iran that you can see miniature Iranian shops, especially in Isfahan. Walk in the beautiful palaces of the Safavid period such as Chehelston, Hasht Behesht, Aali Qapu, and even gardens such as Fin Kashan Bagh. You will see excellent miniature paintings. 
Many miniature paintings are drawn on white sheets with solid magnifying glasses and special brushes. These paintings are so elegant that sometimes even you as a viewer should take a magnifying glass. 
The price of each miniature product varies depending on the painter and his skill. Also, the size and topic of the board affect this issue.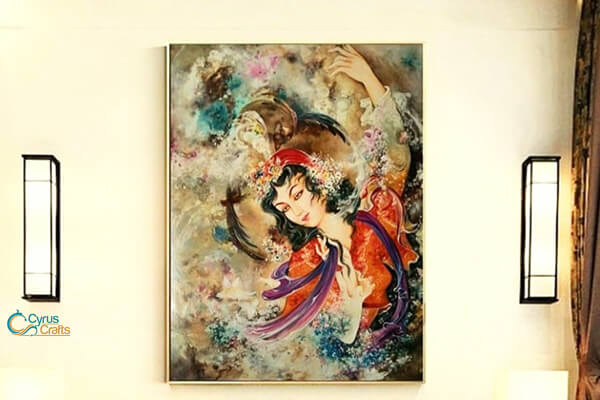 CyrusCrafts' final points about souvenirs
In addition to the mentioned items, many tourists who travel to Iran look for traditional tea services and gold, silver, copper, and bronze engraved dishes. The things mentioned in this article are only a few of the countless handicrafts of Iran that tourists are very interested in. Please share your idea with us about the best souvenirs of Iran.

Comments (2)
Shiva
2022-11-19 05:47:57

I am an Iranian living in Toronto; I suggest you buy Terme from Iran as a nice Persian souvenir.

CyrusCrafts Team
2022-11-21 05:12:43

Dear Shiva, Thank you for sharing your opinion. According to the surveys conducted, American and Canadian tourists who come to Iran; buy more Termeh tablecloths as souvenirs.