Handmade Decorative Turquoise Tray HC-786
Home Decorative Metal Bowl
Size: 13.77 x 13.77 inch (35 x 35 cm)
Weight: 1100 gr
Usage: Home / Home-office / office Decorative
Traditional Decorative Tray is full of positive energy. Besides being useful for storing catering items, turquoise dishes add a nice touch to your office or home table. The turquoise stone is a symbol of peace, confidence, and Khorasan. A new and original Russian art form is the art of turquoise, which creates exquisite turquoise surfaces from small turquoise stones that can't be used in jewelry.
Persian Decorative Turquoise Copper Tray HC–786
This elegant turquoise tray is perfect for receptions, displays, as a gift, and other occasions. Since the container is larger than its dimensions, the turquoise area is larger in relation to its size, making the turquoise dishes more attractive. It is interesting to note that this stone is found in countries such as Egypt, Mexico, the United States, and Iran, but the best and most valuable type is found in Iran, which comes from the oldest and largest turquoise mine in the world, located in Neishabour. Many old mosques have stone facades made of this beautiful stone. This stone, which is known as turquoise, has been used by artists in beautiful works on copper. The handicraft is a metal decorative tray for your home, home office, or office that will enhance its appeal. Items made of turquoise on copper include sugar, mirrors, candlesticks, tangs, sprinklers, vases, jars, chocolates, nuts, etc.
Guidelines for care
A turquoise object can last up to two hundred years if it is not damaged by the following factors:
- If the mosaic turquoises break and fall off due to falling and hitting the ground, this would be caused by impact from falling.
- The blue in turquoise becomes dull when contacting oil or oily substances.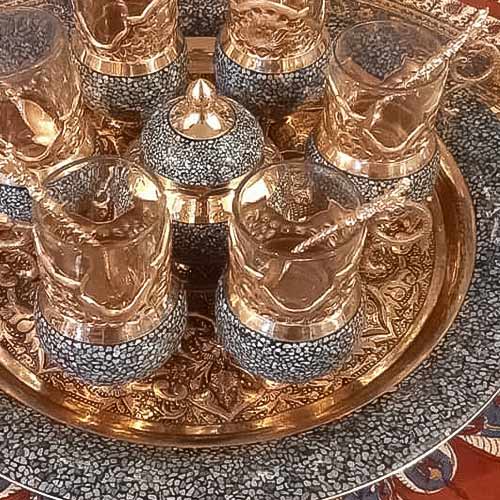 Why CyrusCrafts™?
CyrusCrafts™ by an excellent infrastructure background, professional and specialized activity in the field of sales and export of high-quality vintage and modern Iranian goods to different parts of the world, is now proud to offer you the most peculiar and original decorative and tasty items with the latest transfer processes, Support Customers and after-sales service, responsibly.
We present The Originality, quality, beauty, uniqueness, health, and a good sense of a safe purchase and delivery.
Size

13.77 * 13.77 inch (35 * 35 cm)

Material

Copper

Weight

1100 gr