In 1669, the word "Persian blue" officially entered English reference books as a color name. Generally, this color is known and used in art as Persian blue and in medical and chemical sciences as Prussian blue. This article intends to introduce the Persian blue color, the color spectrum of this family of blue, and its applications in Iranian art.
The history of Iranian art and architecture, the old buildings, and antiquities discovered by archaeologists show that a particular range of blue has always been used in Iranian handicrafts and architecture, from antiquity to post-Islamic history. The number of antiquities found with this blue color was so much that it made the world call this color Persian or Iranian blue.
The Persian blue color spectrum starts from turquoise to azure. Persian blue has three main subgroups:
ordinary Persian blue
azure Persian blue
turquoise Persian blue
the color code of which is as follows: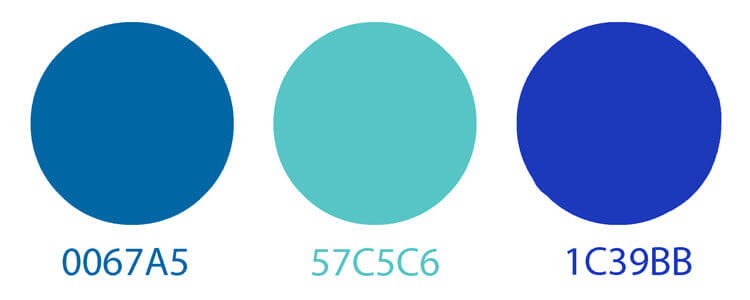 As mentioned earlier, and it's evident in our handicraft products, Persian blue has various applications in Iranian art and architecture. In the following, we will introduce some of these applications:
Persian blue Iranian Architecture
If you have ever traveled to Iran, definitely visiting the historical monuments, the Iranian blue color has attracted the attention of your eyes.
But if you have not had the opportunity to travel to Iran yet, you can visit the extraordinary works of Iranian architects with a simple web search, and in addition to enjoying the artistic wonders of ancient Iranian architectural styles and Iranian-Islamic architectural style, you can see the Persian blue's place in this field.
Iranian blue in interior architecture
In addition to exterior architecture, Iranian blue color has a special place in interior architecture. For example, in most Iranian mosques, the ceiling and most of the interior walls are painted with detailed and dazzling patterns, of which Iranian blue is one of the main colors used.
According to historians, one of the most important reasons for the use of blue in the interior architecture of the building is that this color gives the viewer a sense of calm and liberation. Religious buildings are places that most people visit to express their minds and souls, so Iranian architects were aware from the beginning that they should use soothing colors in the painting of these buildings to achieve this goal. What color is better than Iranian blue?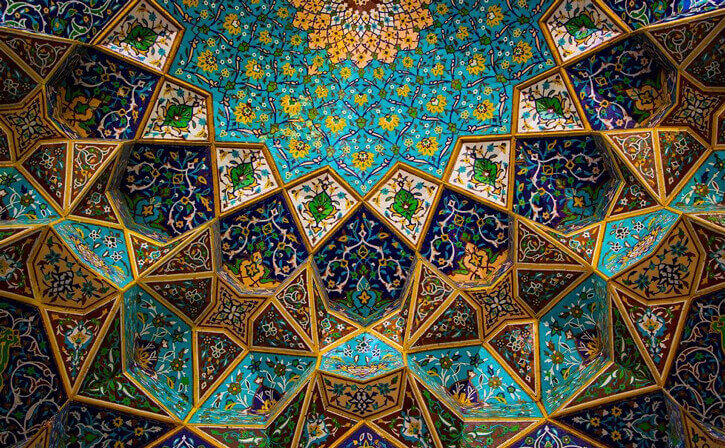 Persian blue in artistic Handicrafts
Iranian handicrafts include a very diverse and extensive collection that includes items such as enameling, pottery, engraving, turquoise, engraving, carpets and kilims, woodcarving, mosaics, and many more. Persian blue color has many applications in many of these industries. For example, consider the following:
Pottery: Blue is the main color used in the pottery industry. In fact, in the beginning, the only color used for pottery glazing was blue, and over time, other colors have opened their way to this art industry.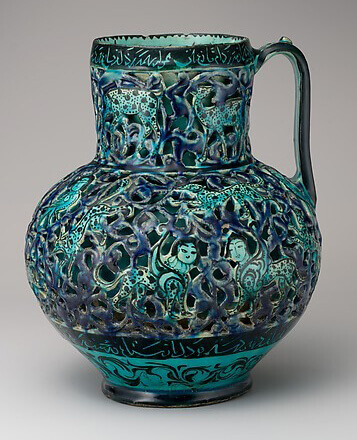 Turquoise:Turquoise is the name of a beautiful and relatively precious mineral that is found in several regions with dry climates in the worldsuch as Iran. As we said, one of the best types of turquoise in the world is extracted from Iranian mines and has a very beautiful color. This turquoise color is also in the range of Persian blue.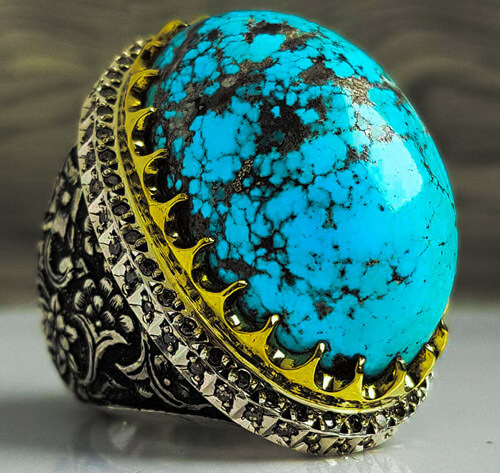 Enameling:Enameling is one of the most delicate and detailed branches of handicraft. The enamel artist delicately combines details full of details with beautiful colors. In this art, one of the most widely used colors is Iranian blue.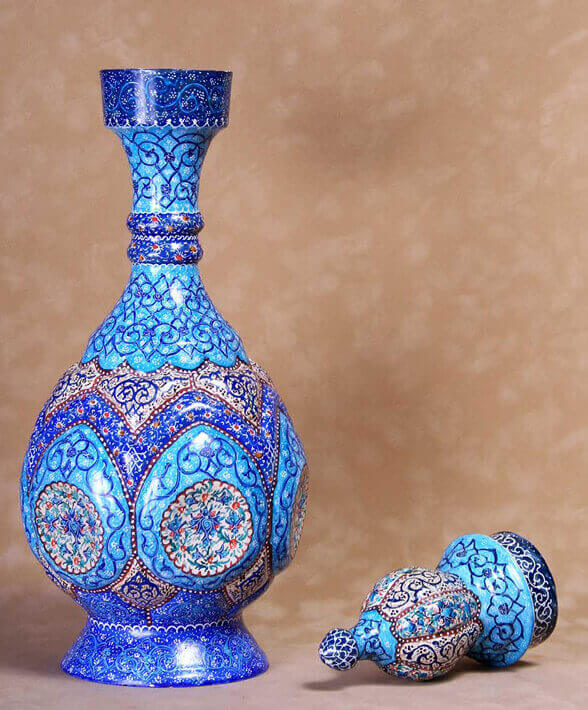 Glassware: Glassware is another Iranian handicraft in which the artist makes utensils with a glass of different colors. This art is characterized by a variety of colors among the glass used. Iranian blue is also very popular and used in the art of glass.
Miniature painting and Persian blue
Miniature is a term that has entered the Persian language in recent centuries and refers to the style of Iranian painting, which has a much older background. Today, all Iranian paintings that do not show any trace of non-Iranian styles are called miniature paintings, and it should be said that the Iranian blue color was mixed with the Iranian miniature painting style from the beginning, and this color still has a special place in the works of miniature artists.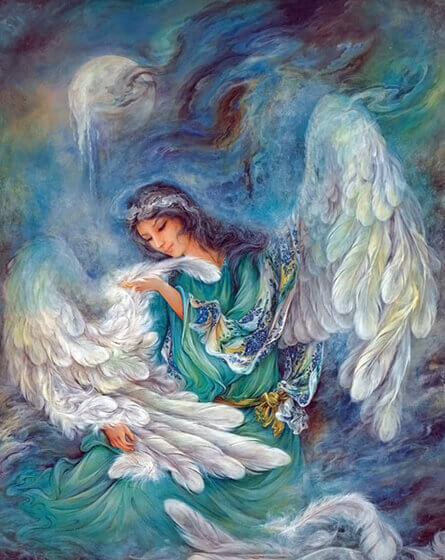 Iranian blue in Fashion and clothing
Iranians have long paid special attention to the beauty of their clothing and have used many arts in this field. For example, the art of termeh, which is used to print designs and patterns on fabric, or the art of needlework, in which the artist embroiders original designs on fabric with great delicacy, all include several examples in Iranian blue. In addition, blue is one of the most popular colors for the simplest fabrics.
As you can see, the Iranian blue color has long had a special place in the daily life of Iranians and that is why the world has given it the Iranian name.
In addition to Persian blue, 7 other colors are known as Iranian in world reference books, these colors are Persian green, Persian medium blue, Persian Indigo, Persian pink, Persian red, Persian Plume, and Persian orange. Meanwhile, the azure and indigo colors of Iran, which are somehow in the blue color spectrum, due to their similarity and proximity to the Iranian blue color, both are usually called Iranian blue.
What is your opinion? Share with us in comments.
What is your opinion about these colors with Iranian identity?
---
Product added to compare.