A significant decision in the design of any space is the type of flooring you select. The surface you step on when you enter a space is your first impression of it, whether you realize it or not. Further, since flooring often makes up a significant portion of the project budget, it's a choice that shouldn't be taken lightly.
In any commercial or residential space, carpet adds warmth, texture, and tone. How you install the carpet depends on your space, budget, and style. The most traditional method of fitting carpets is called 'broadloom carpeting.' This carpet is cut from large sheets and installed from wall to wall. It's effective, but it's not necessarily appropriate for every area.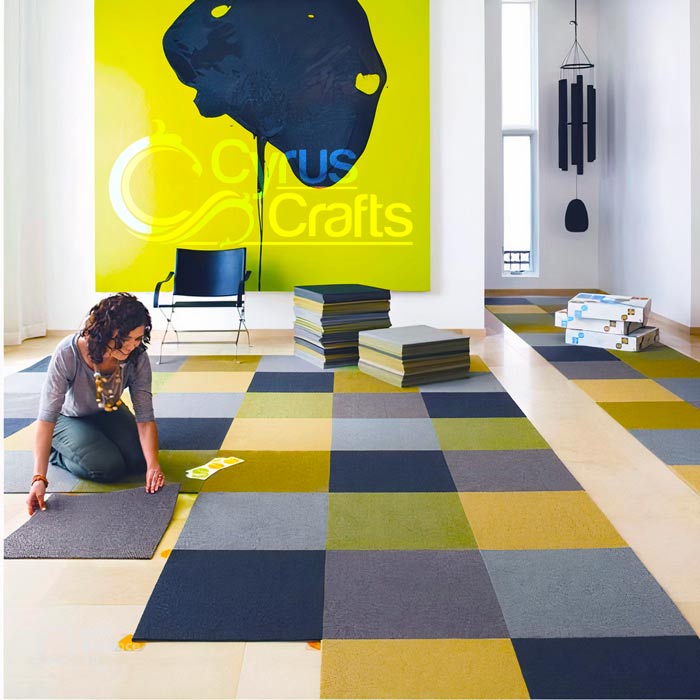 The good news is that you can't go wrong with carpet tiles. There are many advantages to carpet tiles. There are many practical advantages to carpets, including superior comfort, attractive acoustics, thermal properties, and excellent safety.
Due to their modular nature, carpet tile rugs have become increasingly popular recently, especially in high-traffic spaces such as offices and classrooms. However, to know if carpet tiles are the best fit for your project, it's essential to have a deeper understanding before purchasing, including the pros and cons of carpet tiles.
What Are Carpet Tiles?
Carpet tiles may be classified in the commercial carpets group because they are usually used in office environments. As the name implies, carpet tiles are simply individual tiles of carpet that are slotted together. Some of them are also known as carpet squares. Usually, carpet tile rugs consist of a layer of pile fibers tufted into a primary backing, which is then reinforced by a secondary layer.
Homeowners could easily install carpet tiles themselves after they were developed in the mid-20th century as an accessible, self-serve flooring option.
Besides their convenience, carpet tile rugs can be combined in endless ways, making them perfect for adding vibrancy to any room.
While domestic trends have continued to favor broadloom carpet, with laminate, vinyl, and hardwood flooring also growing in popularity as an option in the home decoration, carpet tiles have continued to grow in popularity in a different, more commercial market.
Offices, school classrooms, and many industrial spaces usually opt for carpet tiles due to their durability, easy to replacement, maintenance, and efficiency.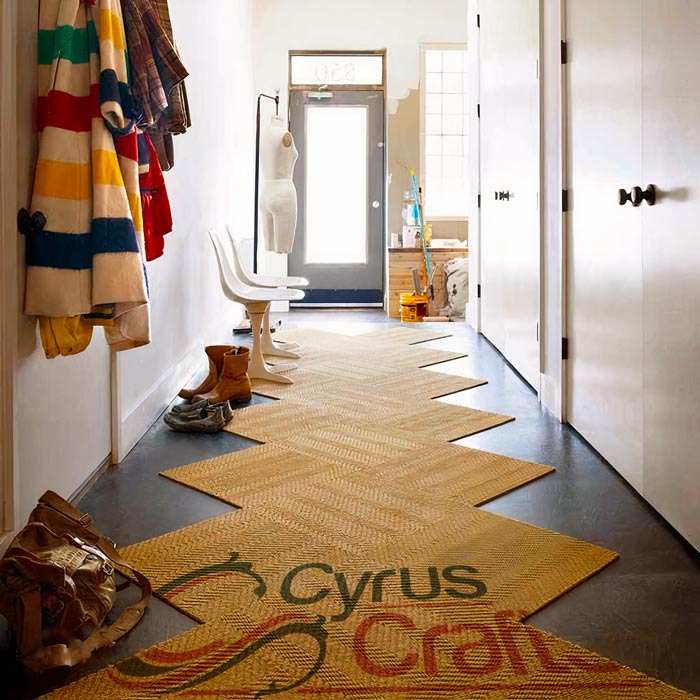 The Advantages of Carpet Tiles
Carpet tiles for basement, like all types of floor coverings that we have introduced before, have advantages and disadvantages. In the end, it is you who, knowing all these features, decides what your priorities are and what type of flooring you like for your home, workplace, or other places. Below we point out some of these advantages, which we hope will help you make the best choice.  
Carpet Tiles, Easy to Replacement, Install, and Store
There is no doubt that carpet tiles are extremely convenient, which is one of their most attractive benefits. As they are modular and able to purchase in small units, they are easy to store, transport, and handle.
Professional installers will have no problems fitting carpet tiles because they are so easy to assemble. Installation can go ahead with minimal disruption to the work or living space and in a relatively short time frame.
Affordable Purchase, Maintenance, and Installation of Carpet Tiles
It is cost-effective to use carpet tiles because they produce less waste, require less storage space, and are easy to replacement. The key saver is the installation cost, as this will generally take a lot less time for a professional installer than it would for wall-to-wall carpet.  
Due to the relative speed with which carpet tiles can be installed, disruptions and downtime will be reduced, resulting in lower costs.
Cheap carpet tiles can always be good options for high-traffic areas, where the use of any flooring in these areas will cause premature damage to the flooring, and the costs of replacing them quickly can be staggering.
Variety in the Choice of Carpet Tiles 
Another benefit that many people don't think about when it comes to tile carpet flooring is the variety in appearance that they make possible. You can achieve the exact custom look you are going for by using a few different colors in one room. Make up different patterns, mosaics, and unique blends of colors for precisely the style that you are looking for. With standard carpet types, this is much more difficult. If you're interested in a more unique-looking floor that infuses different colors or looks together, going with tiles is a simple way for you to achieve your goals.
For example, you can liven up a grey carpet that has a neutral color with pieces of pink carpet. This trick can be effective for offices that you don't want to be too boring. Or you can also use cream carpet next to pieces of green carpet. With this, the environment can be made intimate while being organized.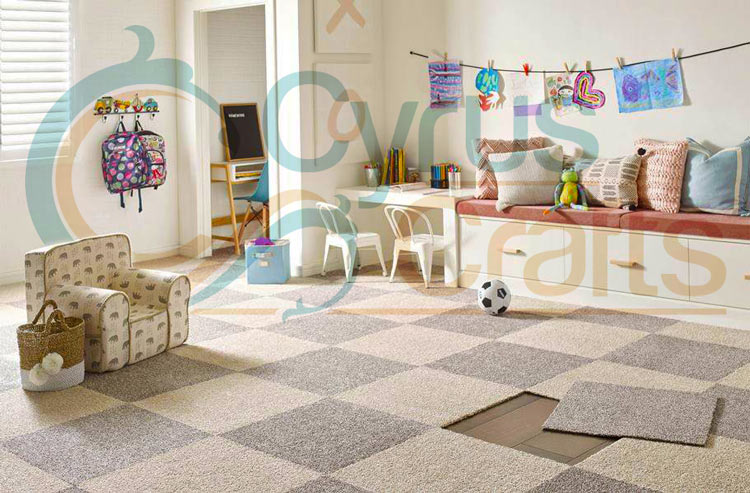 Carpet Tile or Persian Carpet?
Persian carpet, this historical legend, symbolizes the authenticity and warmth of homes. I don't think anyone can compare Iranian carpets, especially silk carpets, with carpet tiles in terms of beauty, quality, the miracle of colors, originality, and impressive splendor!
These two types, Persian carpet, and carpet tile, although both are used as flooring but in different places. Carpet tiles are mostly used in offices, classes, seminars, etc. But Iranian carpets are often used in homes, luxury hotels, palaces, embassies, etc. Carpet tiles have a much lower price than Iranian handmade carpets and are cheaper.
Iranian carpets are more durable. They become even more valuable after a few years of use and can be used as an investment.
In general, the choice between Iranian carpets, whether they are machine-woven rugs or hand-woven, and carpet squares for basement depends on the purpose of buying them.
With a strong infrastructure and professional and specialized activity in the field of selling and exporting vintage and modern Iranian goods to various parts of the world, CyrusCrafts is proud to provide you with the most unique and original decorative and tasty items, with the most advanced transfer processes, customer service, and after-sales support.

/>
Comments (0)
No comments at this moment