Today, tattooing has become a popular culture all over the world. After all, some ink can be a seriously excellent way to showcase your personality. Although going under the needle may be easy, deciding what to tattoo on your body and where can be difficult. A thoughtful approach to tattooing is essential if you don't want to regret it ten years from now. To help you do so, we've created this ultimate guide filled with advice on choosing the best tattoos for everyone.
Tattoo Ideas for Women
Tattoos are probably the most effective way to express and hold on to the great things in life. Tattoos also can make you more attractive than others, along with beautiful accessories because it is a great way of self-expression and they relate to freedom.  You can become a star when you combine a tattoo with precious jewelry such as turquoise jewelry or pearls and emeralds.
Take a look at just a handful of our favorite tattoo ideas for women below and let us know in the comments section if you're a fan of any of these tattoos we've featured on our list. 
Hand Tattoos for Women
Though the hands are not a giant canvas, some sub-placements can choose from – the palm, the fingers, the thumb. Or you can get a full hand tattoo covering the entire hand.
While men may prefer tattoos with dense colors and thick lines, hand tattoos for women are often more straightforward, decorative, and elegant. So if you are looking for ink that is both expressive and beautiful, this list of hand tattoos for women is for you.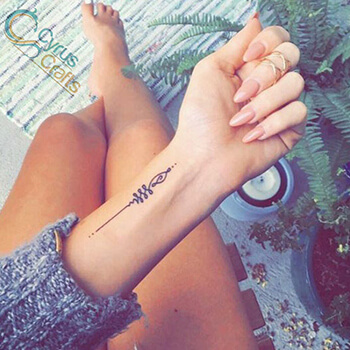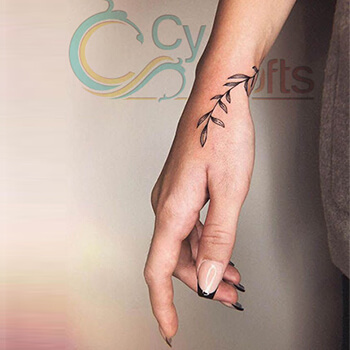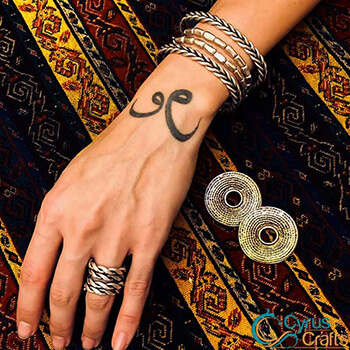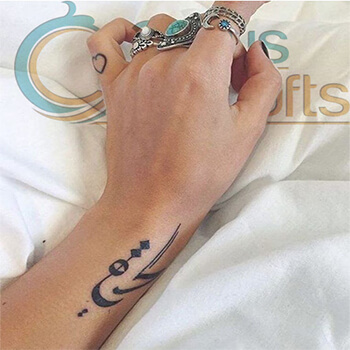 Women's Simple Hand Tattoos
A beautiful hand tattoo doesn't need to be intricate. Because the hand is smaller than the back, the arm, or the thigh, simple tattoos fit better into the placement. If you are a minimalist and appreciate something elegant and simple, the following tattoo ideas are for you.
Finger Tattoos for Women
Finger tattoos have become very popular recently, and it's easy to see why. While smaller than most tattoos, these inkings are no less meaningful and can be adapted to suit any style. From bold and statement-making to tiny and delicate, there's a finger tattoo to suit everyone. Are you feeling inspired to get one of your own? Here are some finger tattoos designs to help you to discover the best designs that will stand the test of time.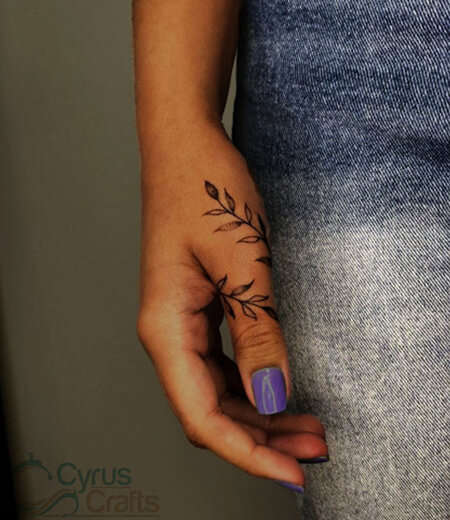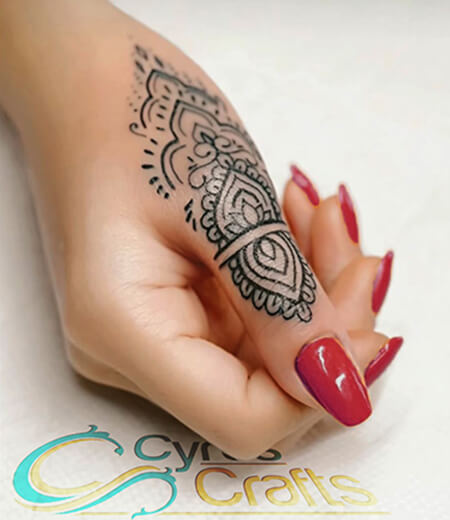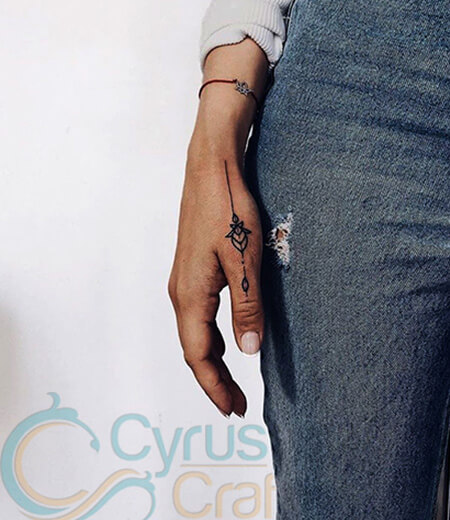 Women's Neck Tattoos
The neck is a visible body part even when you wear a shirt or t-shirt. It is a beautiful body part where women wear expensive jewelry like necklaces etc., for the neck to look beautiful. But everyone who likes to look beautiful and different from others can't afford expensive jewelry. But they want to look different and beautiful from others. So tattoo designs on the neck are the perfect option for those people. Women love to have tattoos on their necks. Girls love to have experimented with a wide range of colors and designs for their necks. 
Many women celebrities have neck tattoos, including Rihanna, Angelina Jolie, Miley Cyrus, Lady Gaga, Deepika Padukone, and many others. This has given rise to women's tattoos, significantly neck tattoos. Neck tattoos are said to be some of the most painful ones as they are located in areas with thinner skin and many nerve endings, but the pain is nothing when you get the opportunity to see the final design.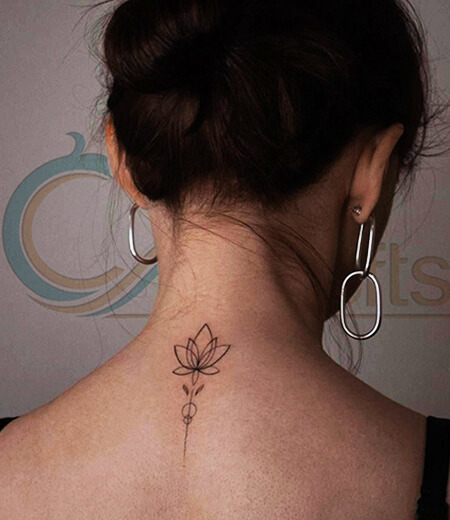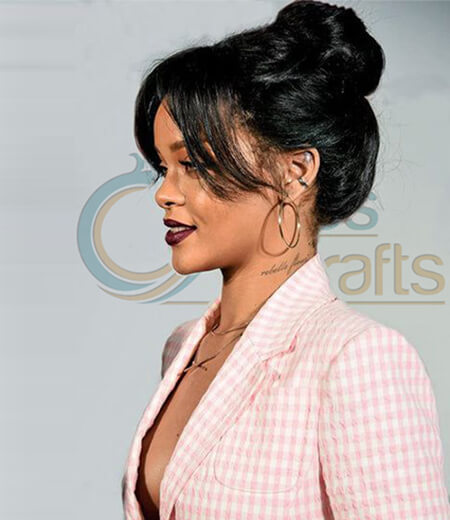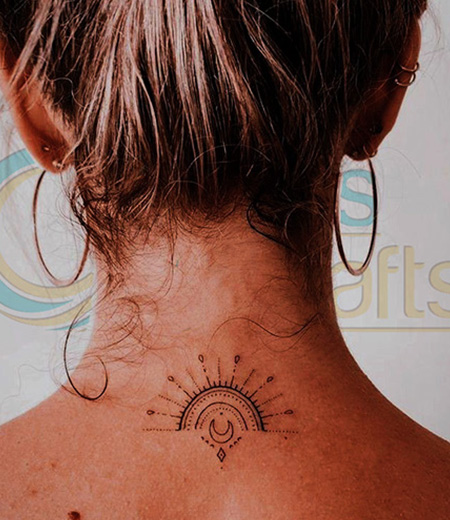 Back Tattoo Ideas for Women
The back is one of the most popular options for body art for several reasons. For starters, a back tattoo is an excellent spot for ink because it is easy to cover up and considered low on the tattoo pain chart scale, especially the further you get from the bones of your spine and hip. That said, for those who are daring and have a rebellious nature, a large piece covering the back and neck is a fantastic option.
Finding the right back tattoo can be daunting regarding body art. Back tattoos have become famous for women who want a large canvas to create an intricate and beautiful piece. If you're planning to get new ink, a tattoo on the back can offer a chic, feminine and sexy look that complements the female form.
Whether you want a unique design with a special meaning or just a stylish small and simple piece with a creative twist, there are several great back tattoos for women to consider. Some women will want a lower back tattoo with classy ink for a sensual vibe, while others may prefer a whole back piece with a meaningful design and beautiful colors for a stunning finish. Choosing the perfect placement and artwork can be challenging with many cool designs. Using meaningful texts and letters, such as a romantic text or a particular poem, can be a good option for a back tattoo. Persian texts and writings, such as the poems of famous poets such as Hafez, Rumi, etc., are a stylish choice. Many famous people like Angelina Jolie and Amber Heard have used Persian texts and images for their tattoos. To inspire you, we've compiled examples of the best back tattoos for women.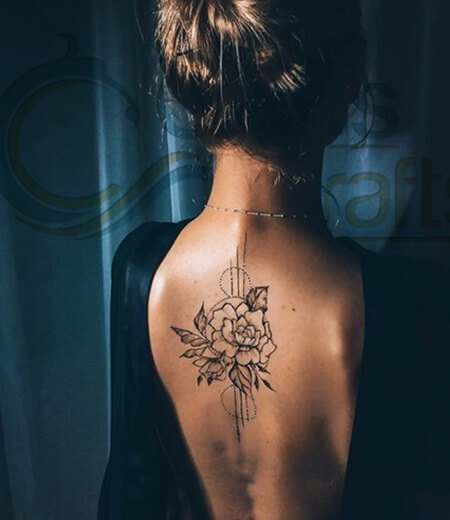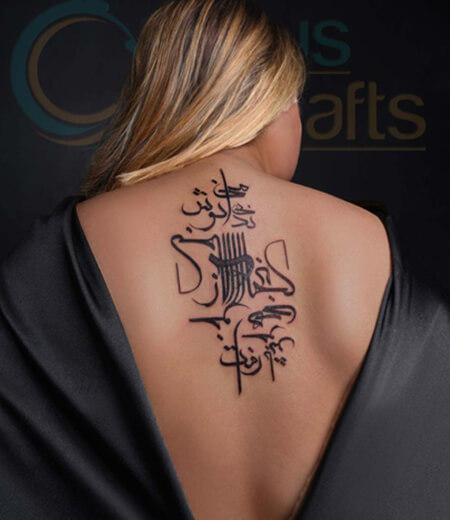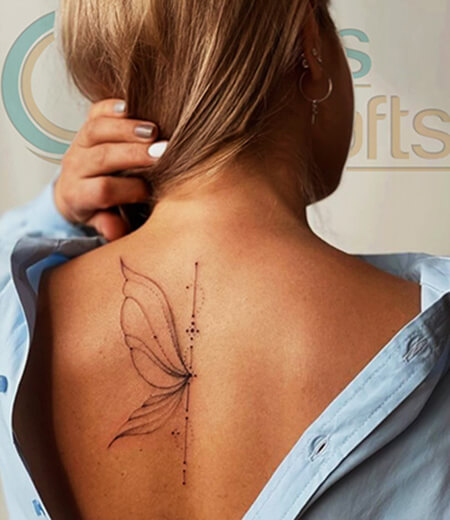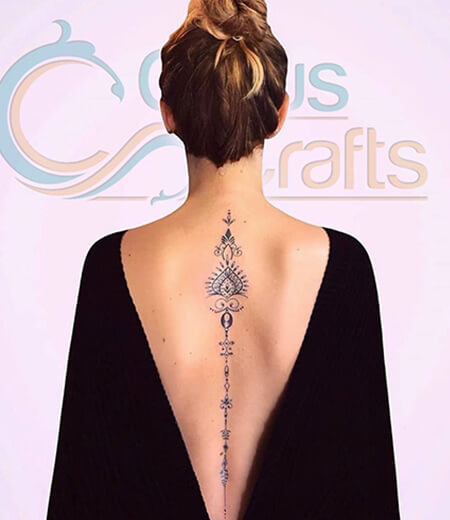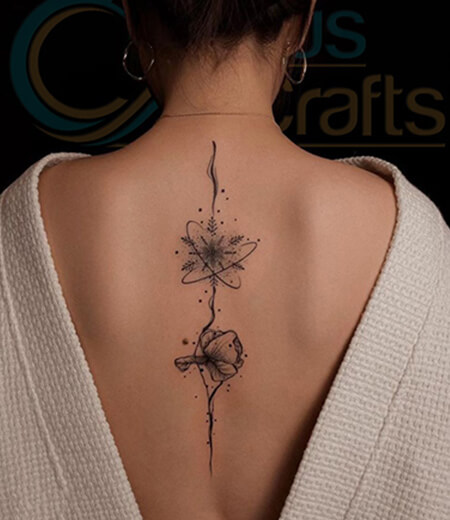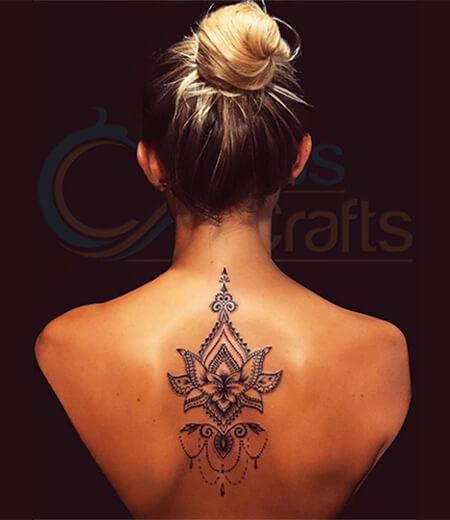 Women's Foot Tattoos
Foot tattoos are trending these days. Though foot tattoos for women are generally small in size, they can quickly gain positive attention. Foot tattoos are primarily simple and less complex because the skin area provided by the foot does not have a sufficient canvas to accommodate more detailed tattoo patterns. But, no rule says that small and simple tattoos can't impact big.
Because foot tattoo designs are relatively simple, they cost less money than big tattoo pieces. There are many exciting and elegant foot tattoos that you can choose for yourself. You should not worry if you are uncertain about the foot tattoo design that will suit you. We have selected some of the women's most beautiful foot tattoos, which will attract attention.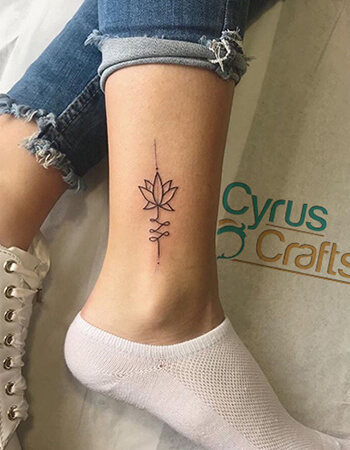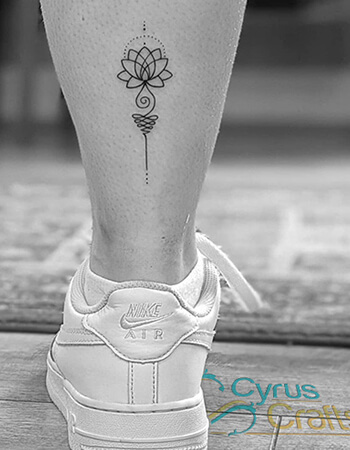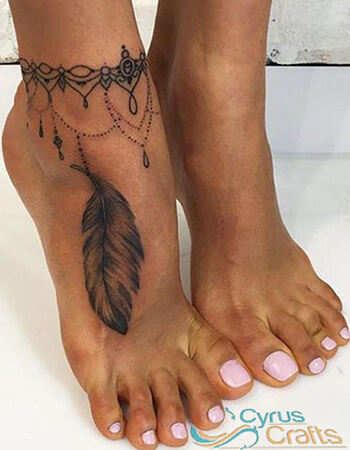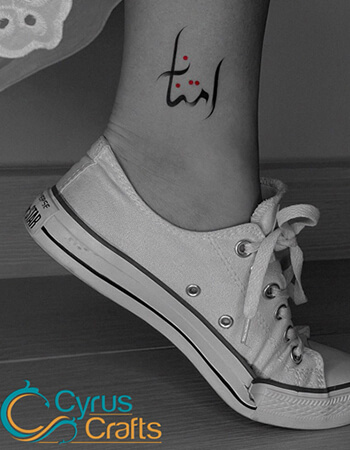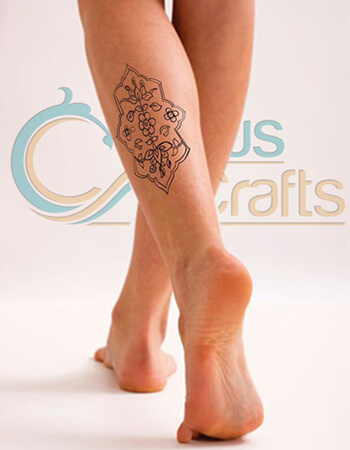 The Best Tattoo Designs That Never Get Old and Never Get Boring
With so many cool tattoos, choosing the right designs can be tough and some guys may need examples to spark their creativity. Oftentimes, the best tattoos combine awesome imagery with a meaningful message. Tattoo designs can range from small and simple to unique and badass. Whether you're getting your first tattoo or want to add new artwork to your body, we've created this guide to help you discover the best tattoos to get right now. 
Simple Butterfly Tattoo
Butterfly tattoos are a popular design choice and for a good reason. Regarded as beautiful, delicate parts of nature, butterflies look great paired with the body's natural form, no matter the placement. These designs are easily personalized, allowing you to create a unique piece of ink. If you'd rather play up the creatures' intrinsic meanings instead, butterflies are known for symbolizing everything from freedom and transformation to delicate beauty. Traditionally, these designs connect with femininity and love but can also represent endurance, resilience, change, and hope.
Whatever your reason for wanting a butterfly tattoo, the most crucial part is to be sure of what you want it to look like. If you're still searching for that perfect something, keep scrolling for these butterfly tattoo ideas that will help you design your next piece of ink.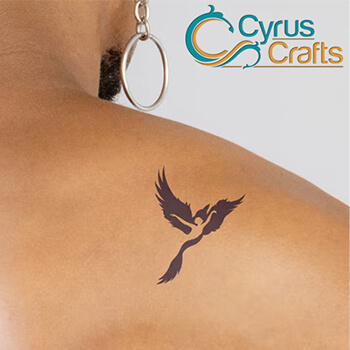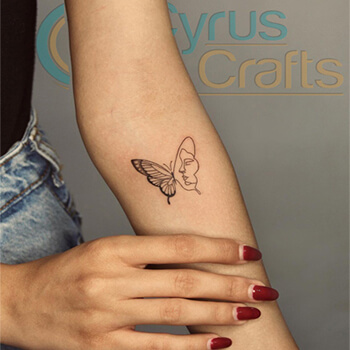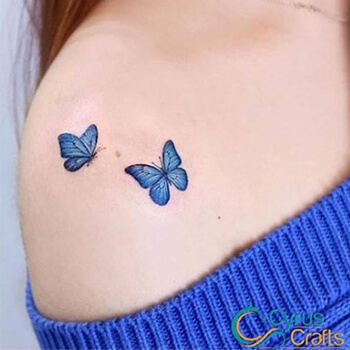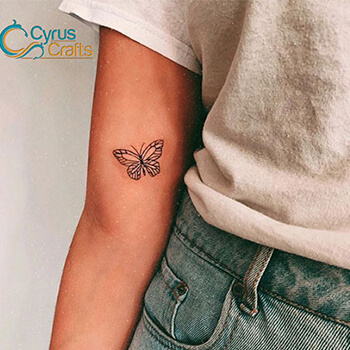 Flower Tattoo Ideas
Flower tattoos are some of the most versatile for men and women. Flower tattoo designs can be large, small, black, grey, white, colorful, or anything. Similarly, floral tattoos can carry a personal and meaningful message or exist because you enjoy their beauty. As a result, the eye-catchy floral tattoo designs are winning the hearts of both men and women. The best feature of flower tattoos is that they hold deep symbolic meaning. The meaning, however, may vary depending on your culture. Because flower tattoo ideas can have different meanings, you must consider the type of flower and color you want. Some flowers symbolize strength, while other types represent new beginnings, family, love, hope, friendship, and purity.
There are a variety of flower tattoo designs for your shoulders, arms, chests, backs, legs, wrists, thighs, and hands.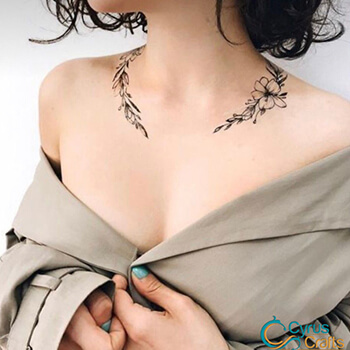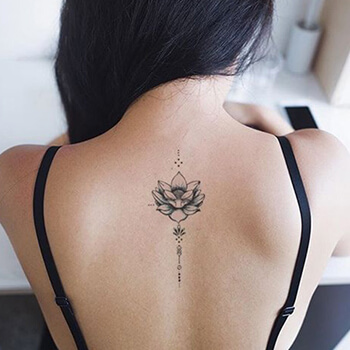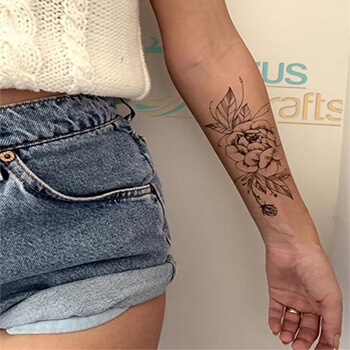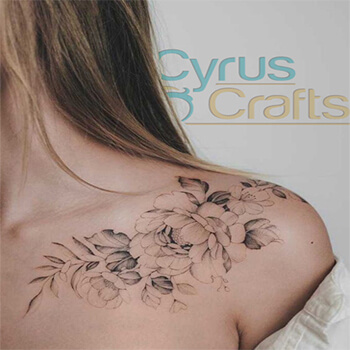 Persian Text Tattoo Ideas
It's incredible how powerful and thought-provoking a single word can be. As the saying goes, "A picture is worth a thousand words," but sometimes a word can also be worth a thousand photos.
Text tattoos are as popular as ever these days, a word or phrase of encouragement or perhaps a meaningful quote that's too good to pass up. Whether you're getting a tattoo of a loved one's name or a multi-paragraph quote, the uniform nature of written (or typed) words is fascinating. Certain artists have individual fonts which are so elegant that they inspire multitudes of text tattoos just based on the sheer beauty of the font. 
Persian phrases and letters written in calligraphy or standard font have become very popular worldwide. As mentioned above, people like Angelina Jolie and Amber Heard also used Persian phrases for their tattoos. Persian expressions and words have such power and beauty that they can be used anywhere on the body and attract the attention of any audience.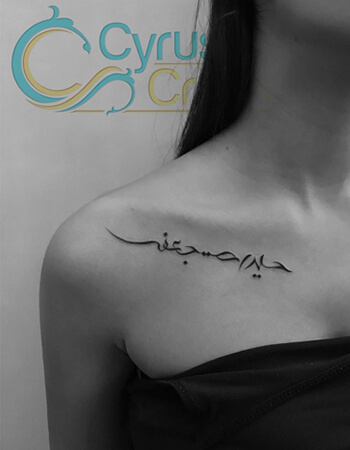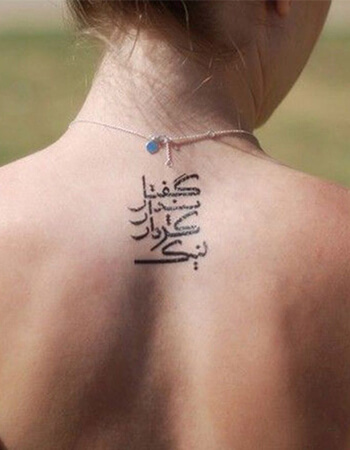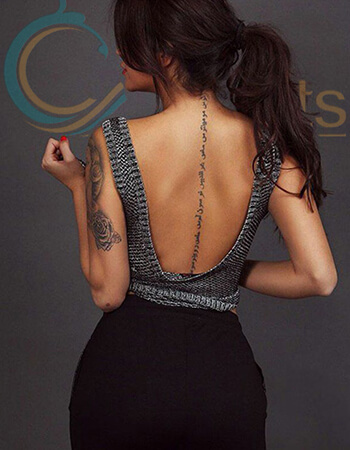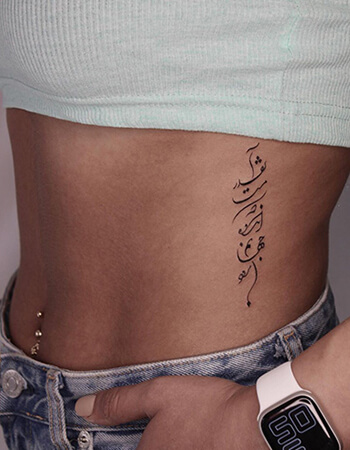 The Best Sun Tattoo Ideas
One popular tattoo you may be interested in is the sun tattoo, considered a mainstream tattoo worn by both men and women.
Life would not be possible without the sun. Because of this, it is a significant symbol. Sun tattoo designs can be in various colors, sizes, and styles. Not all suns are yellow balls with rays shooting out of them; below, you'll find a wide and inventive range of interpretations in discussion and photographs. We are sure you will enjoy our Best Sun Tattoo Ideas list.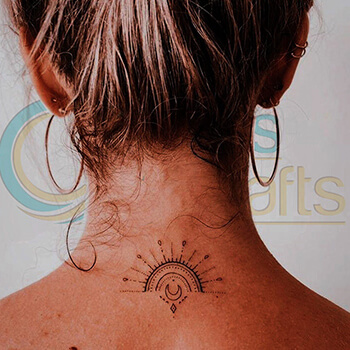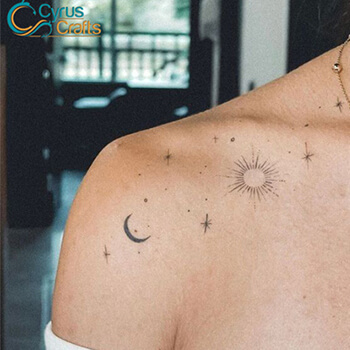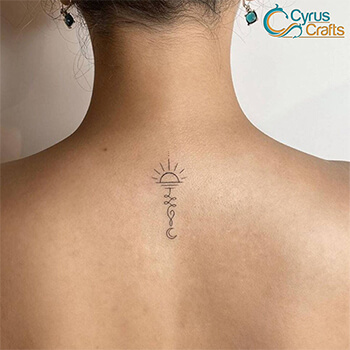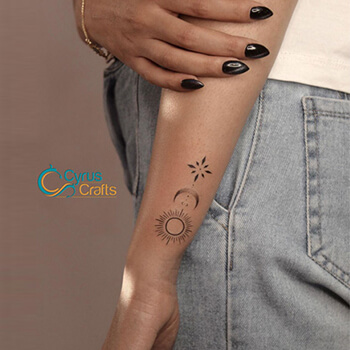 Henna Tattoos
If you've ever wondered what having a tattoo would be like but didn't want to commit—or love the look of traditional Indian wedding tattoos—a henna tattoo is worth trying. Henna has spread worldwide, making a lasting impression with its deep color and intriguing designs. Made from a plant-based ink or paste, henna tattoos are completely painless and naturally fade over time. The tattoo is often made with a specific amount of henna powder mixed with other ingredients, such as water or tea. Henna is placed in a small bag and then applied to the skin using a stencil as an outline for where it will go. Henna comes in shades of red, orange, brown, or blue-black—and looks beautiful in various complexions. Keep reading to discover the most popular designs right now!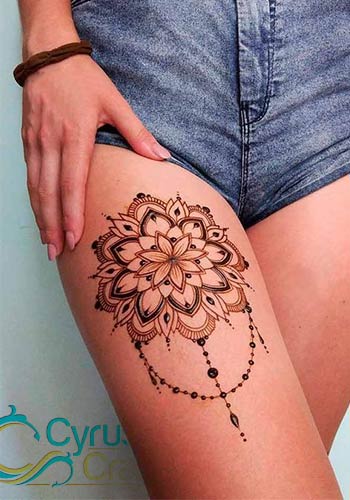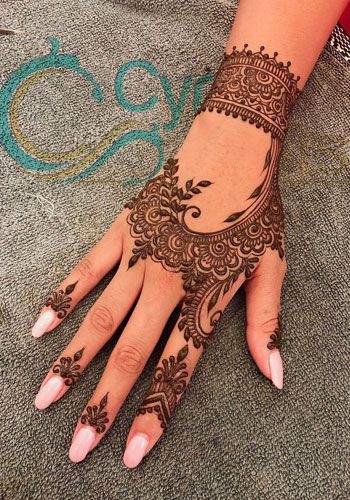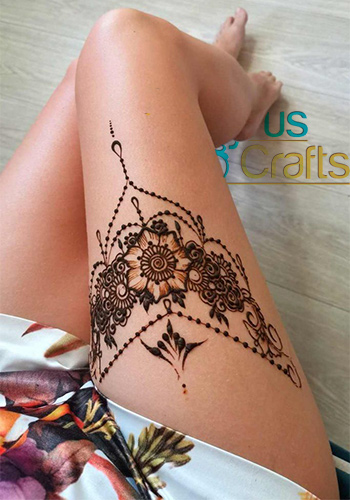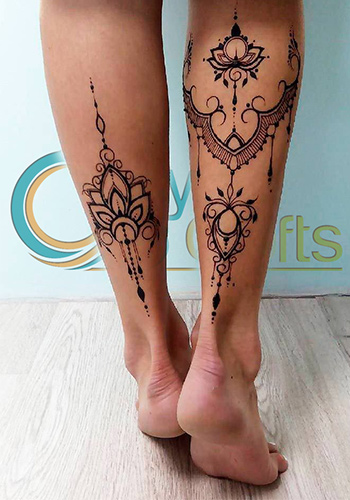 Tattoo Ideas for Men
When it comes to the best tattoo for men, some blokes know exactly what they want while others need a little guidance. Decisions like simplicity, size, content, and location on the body play a crucial role. If you're planning a single tattoo or multiple markings, if you want skin in the game, check out our collection of the best tattoos for men.
Hand Tattoos for Men
Hand tattoos are becoming increasingly popular among men, but be aware that they require a lot of commitment. While it's one of the more painful spots to get a tattoo, hand tattoos are becoming more and more popular as time goes on. There are many cool hand tattoo designs, but remember that once you've decided on the drawing you want, you'll need to find an artist capable of working in this challenging hand location. There used to be a time when most artists wouldn't do hand tattoos because it's such a delicate area that's uneven and hard to work with. These days, though, many skilled artists have no problems with most hand tattoo designs.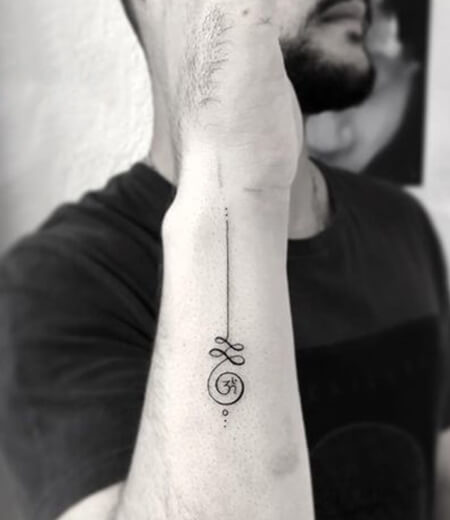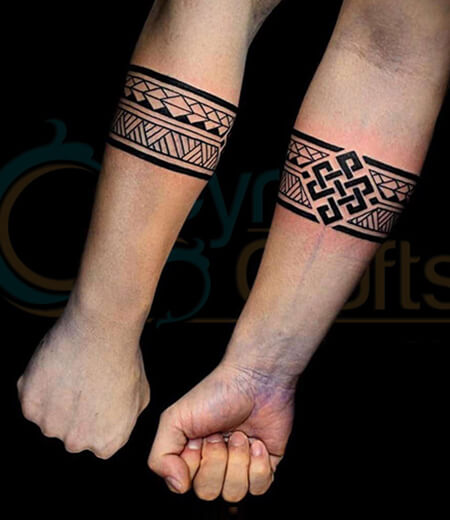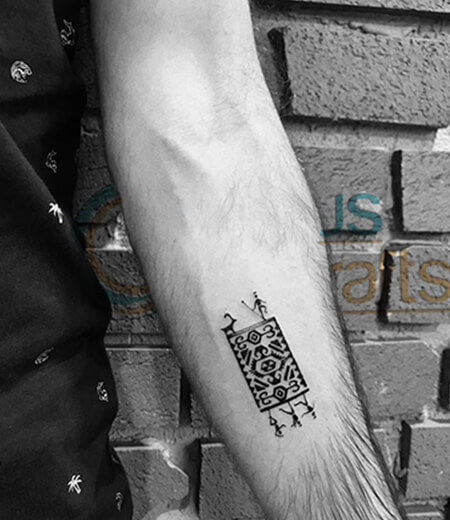 Tattoo Ideas for Men's Arm
Men must create a hand tattoo design that will last for years. To help you with this process, we've put together a list of different hand tattoo designs. Not only did we include small and simple designs, but we also added some intricate ones. Check out these most incredible forearm tattoos to discover your next inspiration.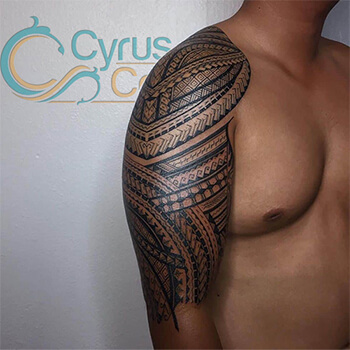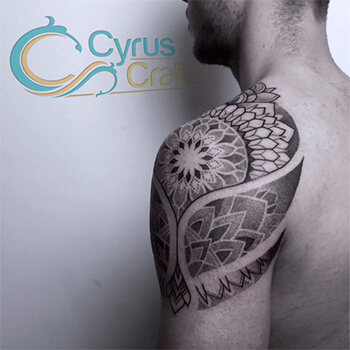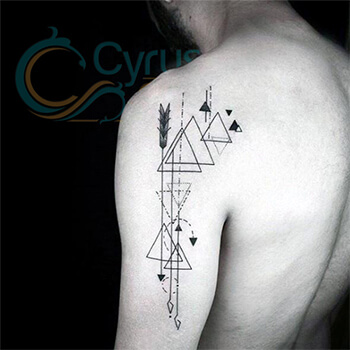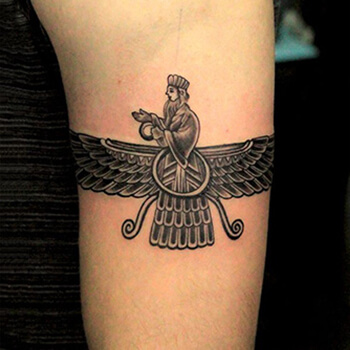 Men's Neck Tattoos
Once associated with criminals and gangs, neck tattoos today represent bold, strong, and masculine personalities. That's because tattoos on your neck usually can't be concealed under clothes. Plus, the neck is one of the more painful placements for ink. Check out these options to find the perfect neck tattoo that reflects your personality.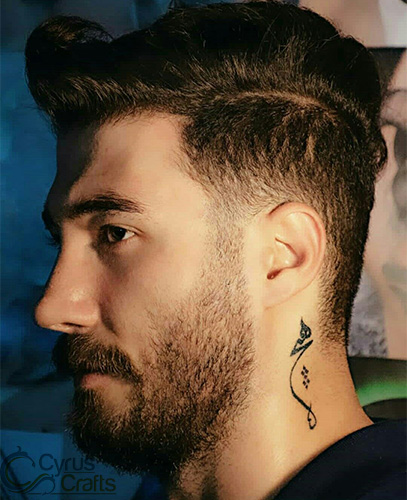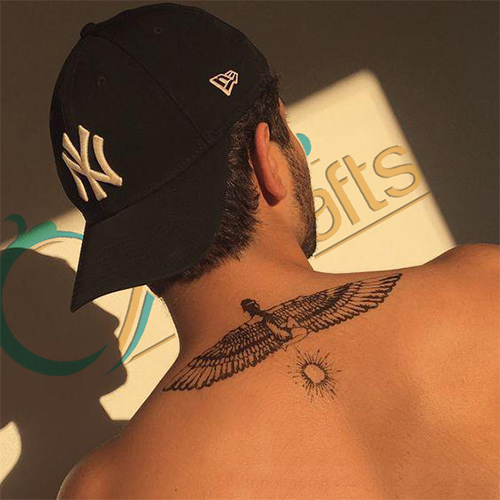 Back Tattoos for Men
Ever considered getting back tattoos? Back tattoos are fantastic as they provide a giant canvas for tattoo artwork. There are thousands of inspiring and badass ideas for stunning back tattoos for men.
The back is one of the body's wildest, most significant, and flattest parts. Thus, it is a great location to get a tattoo that makes a statement. You can also go for complex tattoo designs as you have a massive space for detailed artwork. It certainly gets lots of attention when you unbutton your shirt and expose your tattoo.
Back tattoos often have huge designs which take up more space. People have noticed that Back tattoos are always a bold statement as these are created on a large flat canvas. You can pick all types of design ideas irrespective of size.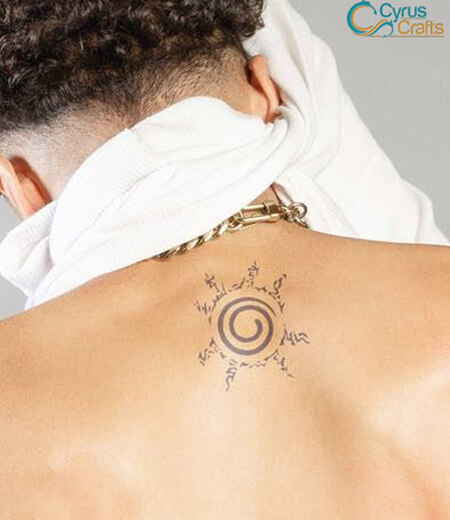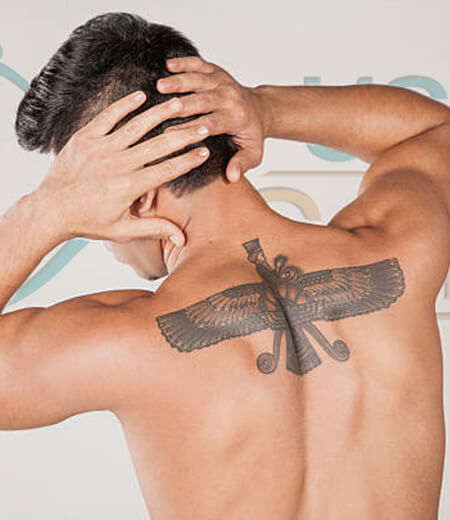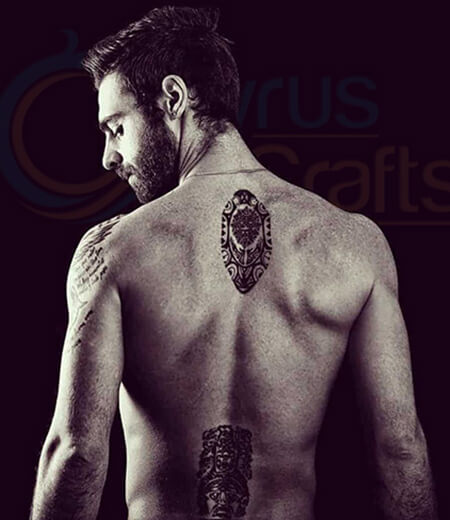 cover up tattoo design
Whenever you get a tattoo, you have to think about the design. This is very important since tattoos are not easy to erase or take off, unlike art pieces on paper. It's not impossible. You can have the tattoo removed or get a cover-up tattoo. Tattoo cover-up is the process of eliminating or fading unwanted tattoos and inking a new piece on the same body part. If the existing ink is lighter, covering it up with the new tattoo in darker tones can effectively hide the one before. Otherwise, the tattoo removal process is necessary to lighten the previous one.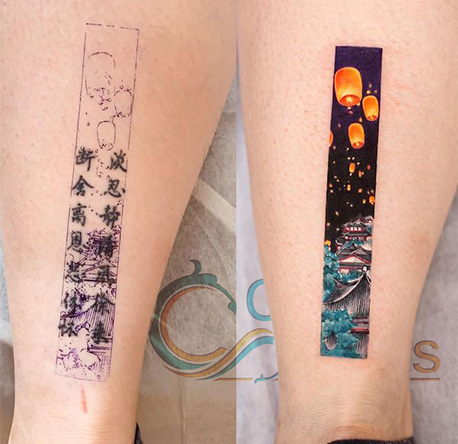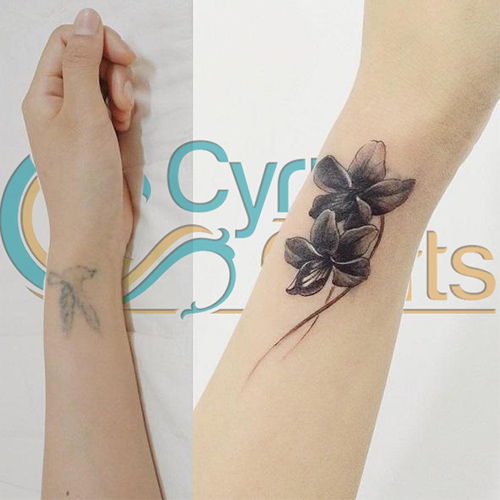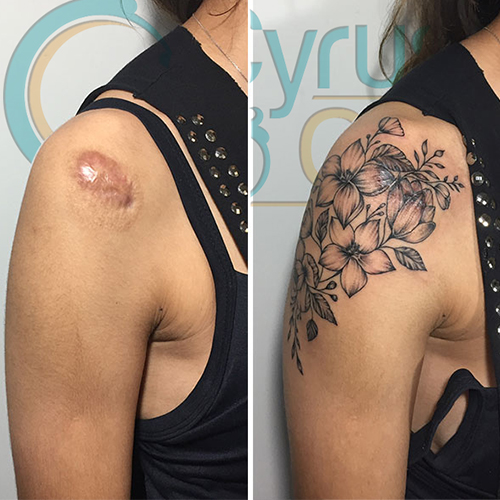 sleeve tattoo
Sleeve tattoos are powerful works of art that can transform a person's body. They're large and showy, making them hard to conceal unless you wear long sleeves; they also come in many different styles—from intricate Celtic knot work to bold tribal markings. The great thing about sleeve tattoos for men is that they are different from everyone else's. If you decide on a sleeve tattoo, plan it wisely and speak directly with a professional tattoo artist to give you the best advice. If you're not sure what piece is best for you, check out these sleeve tattoo ideas for men.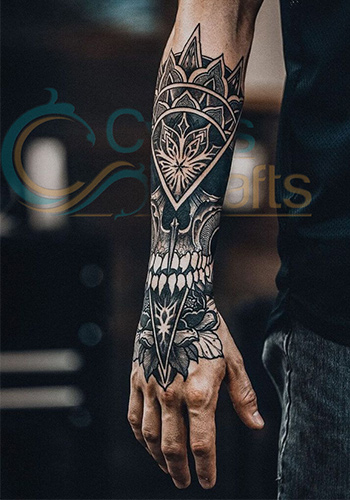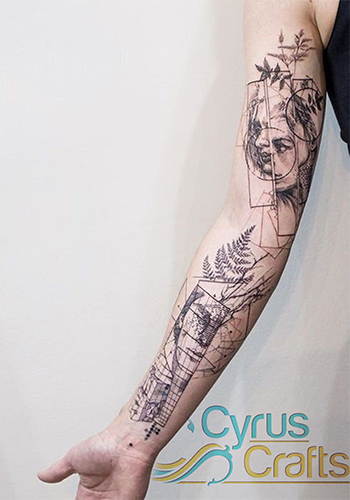 How Much Do Tattoos Cost?
Pricing of a tattoo can get really complicated really fast. The best thing to do when talking to an artist about getting a tattoo is to ask what their minimum charge and hourly rates are, followed by a rough estimate of the tattoo you're looking to get depending on the style, size and placement. 
Size matters when it comes to tattoos, but it's not the only factor when determining the cost of the tattoo. Anyhow, you can get a pretty accurate idea of what the price of the tattoo will be based on the expected size. Keep in mind, complex designs will increase the price, as will colour or any other additional elements.
The average cost of a tattoo in The Canada and United State is $152 and depends a lot on the size of the tattoo. A small tattoo, the outline of a wave on your ankle or a paper plane on your wrist are usually priced in the $70 – $93 range. Go a bit larger, credit card-sized tattoo, and you're in the $117 – $175 range. Palm-sized tattoos will usually be priced at around $175 – $300, while hand-sized tattoos can go from $234 – $351.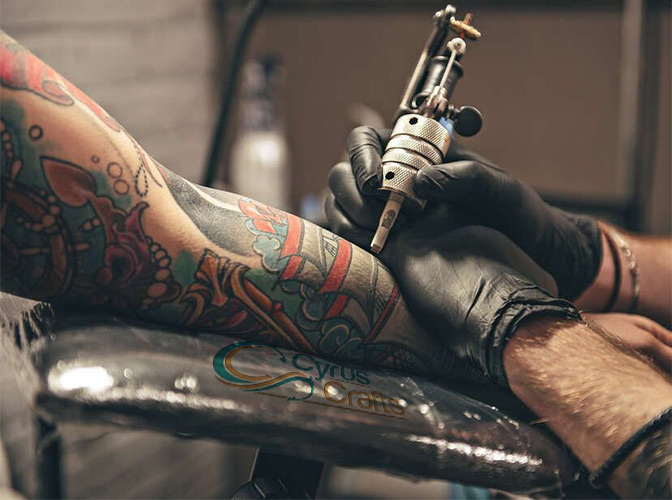 Tattoos are rapidly becoming a widely accepted part of the culture of Canada and the United States. People are expressing themselves through their ink, from celebrities and musicians to your co-workers. Of course, as tattoos are a permanent addition to your body, it's essential to take time to settle on your favorite tattoo design.
Tattoos aren't the only way to express your love for art and creativity. By buying and maintaining beautiful and unique art products, you can add art to your life and enjoy it. 
Comments (3)
Helen.S
2022-11-13 02:11:06

What factors should we consider when choosing a tattoo?

Cyruscrafts
2022-11-13 02:36:21

Hi Dear Helen! This is ultimately a question only you can answer. The tattoo should reflect your unique personality while also making for a choice visual.

pharmacie
2023-10-29 13:02:39

Awesome issues here. I am very happy to peer your article. Thank you so much and I'm having a look forward to touch you. Will you please drop me a mail?