Handicraft
A Handicraft embodies the first cultural symbol in early human societies and includes a wide range of creative activities and handmade things.
Archeological excavations of ancient civilizations, such as Shahr-e Sukhteh ([The] Burnt City) in Iran, the Mayan civilization in South America, ancient Egyptian and many Paleolithic civilizations, show that the first signs of civilization and culture emerged in pottery, which, in addition to everyday use, was decorated with patterns and motifs.
It is the crafts of the peoples of every land that reveals their background, what they have been through and what civilization they have come from, and, they are all considered the cultural and artistic works of each nation. For instance,Cyrus human rights cylinder reflects the 2500 years old Iranian culture of modern civilization.
The best Handicraft Item
Handicrafts, rug and carpets, indigenous pictures, traditional lighting products, etc. are among the handicrafts that make up long-standing memorials. What they brought with them from ancient times was the warmth and intimacy that are less palpable due to the mechanization of our surrounding world.
A handicraft is a type of handy work which is very useful in decoration. Paisley shelf covers, traditional candlesticks, tulip chandeliers, and, simple and delightful wooden photo frames bring the nostalgic aesthetics of the past beautiful days that can be possessed today by having a collection of handicrafts.
A Handicraft many types, in each area and region represents the culture that has passed from the past to the present, and each piece of pottery and glassware reveals the profundity of the culture and history.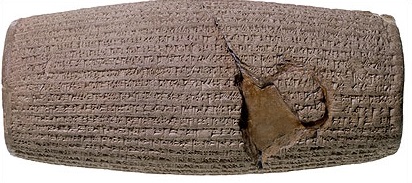 Today's human has not forgotten their ancestors' tradition to communicate and show their unique culture, and has consistently tried in different periods to make their handicrafts known worldwide, which today include a wide range of visual arts.
The power of art surpasses the frontiers, and acquaints people from around the world with the handicrafts like pottery, glass, copper, hemp, wood and all kinds of ornamental stones, which are the result of endless efforts of tasteful artists.
A Handicraft, on the other hand, can be a gift and an appropriate souvenir for those who are tired of the contempt of the modern mechanized world, and his visual art is able to distract the beholders and add a beautiful and pure look to their surroundings.
In addition, handicrafts from the oldest to the most modern societies, attract eyes, decorate walls and tables, and demonstrate the glory of the near and far cultures.
Persian handicrafts, with a unique variety in form, material, and application, are of no exception; these artistic manifestations are so inspiring and astounding that they annually generate a large amount of tourism revenue in Iran.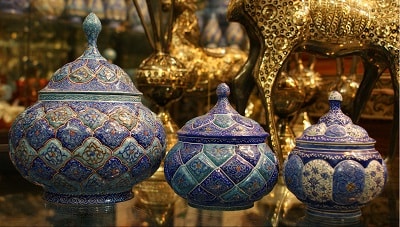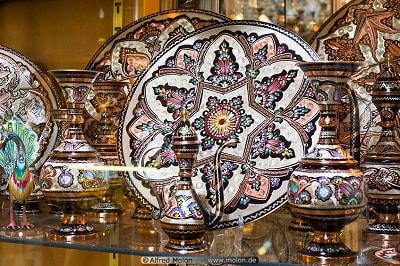 In the small chambers of Isfahan, Tabriz, Hamedan, Mashhad, Neyshabur, Bushehr, Zanjan and many other cities of Iran, the magnificent manifestations of Iranian handicrafts are demonstrated and draw the admiration of culture lovers around the world.
The cruses made in Lalejin Hamadan using the pottery wheel are the hidden sign of Hegmataneh pottery, and the wood-carved mosaics of Isfahan are reminiscent of the glory of the Safavid era. On Cyruscrafts, you can learn about various types of Iranian handicrafts.
Minakari (vitreous enamel)
Minakari (vitreous enamel), considered one of the most beautiful Iranian handicrafts, has its roots in the country's history and culture. Minakari is one of the arts that requires great delicacy and precision, as well as a high level of skill. These handicrafts are thought to have first appeared around 1500 BC.
Several thousand-year-old Iranian antiquities, such as minakari pottery vessels, vases, and jars, can be found in major museums around the world, including the Victoria, Louvre, and Glasgow in Europe.
Minakari handicrafts use a combination of different metals and fire heat to obtain the color of the enamel, and by creating it on different surfaces such as pottery, glass, metal, tiles, ceramics, and so on, they create very beautiful patterns.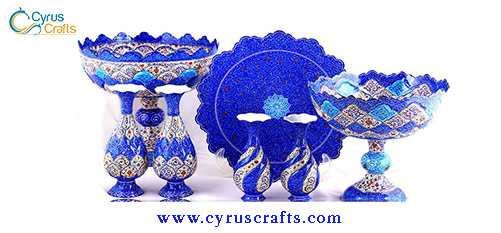 Khatamkari
Khatamkari is one of the brightest stars in the endless universe of Iranian handicrafts. These unique handicrafts and works of art are frequently created in Shiraz and Isfahan by skilled artists who are not found anywhere else in the world. Khatamkari is a unique design that consists of geometric shapes that are mosaiced together to form regular and colored polygons.
These eye-catching designs are created on a variety of decorative objects, including jewelry boxes, pen-cases, and other decorative items. Handicrafts and original arts enthusiasts use these accessories to decorate and beautify their homes and offices.
Khatamkari is one of those handicrafts that, in addition to artistic taste and aesthetics, necessitates a significant amount of time, high accuracy, patience, elegance, and order from the artist; as a result, it has a high value in comparison to other handicrafts around the world.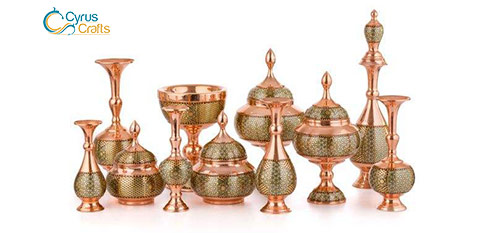 Marquetry
Some handicrafts were created for everyday use before becoming decorative, but marquetry was created to decorate and beautify the surfaces of various objects from the very beginning. Marquetry is frequently done on objects with small pieces of metal, wood, tiles, leather, and other materials to create beautiful designs and patterns. Marquetry is an original and ancient art form, and there are works of this type of handicraft dating back thousands of years.
Wood carving
Carving or engraving on wood is another unique and interesting Iranian handicraft. A skilled and experienced artist creates very beautiful patterns on wood using special tools as well as his/her artistic taste and creativity, and thus produces a variety of handicrafts in this manner.
The appropriate type of wood should be chosen based on the design to be carved on the wood; typically, walnut trees, boxwood, or pear trees are used for woodcarving because the wood used to make these handicrafts must be strong enough. Woodcarving cannot be done on woods that do not have a hard texture. It should be noted that the wood texture is uniform, in addition to its compactness.
Architects used wood carving on wooden doors in ancient times. Tables, wooden utensils, tableaus, sideboards, crowns of sofas or beds, various frames, and so on are examples of wood carving handicrafts.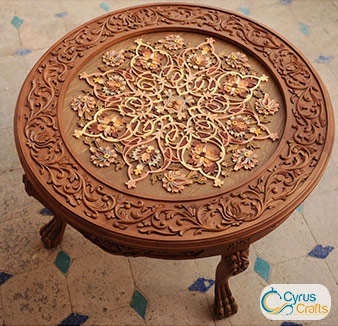 Copper handicrafts
Copper utensils and decorative accessories can be found in Isfahan's old and traditional markets because they are one of the most important handicrafts of Isfahan, Qazvin, and Zanjan. Copper has been used in Iran since ancient times to make pots, basins, and many other utensils because it has many benefits, is especially useful for cooking, and even helps to treat anemia to a degree. Unfortunately, cast iron, Teflon, ceramic, and other materials have largely replaced copper utensils, but copper is still used in the production of utensils, decorative items, and jewelry. Copper, according to archaeologists, was the first metal discovered and used by humans.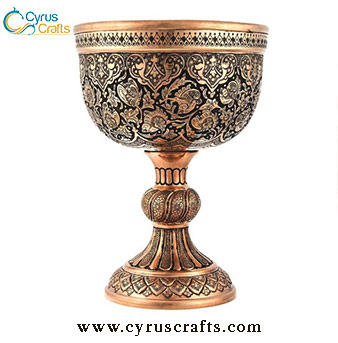 Handmade jewelry is one of the handicrafts that can be found in all classes of society in various shapes and designs. Various stones and metals are used to make jewelry in Iran, depending on the city's history, culture, and art; copper is one of them. Copper jewelry can be one of the most appealing souvenirs of Iran if you are interested in original Iranian arts and crafts.
Handicraft on CyrusCrafts
The CyrusCrafts has the honor to offer the most exquisite handicrafts in Iran, including all kinds of pottery and ceramics, porcelain, traditional handwovens and fabric products, leather goods and textiles, wooden and wicker handcrafts, metal and conceptual handcrafts, vitreous enamel, turquoise, copper containers, glassware and mirrors, and many other products at the best prices and conditions of sale to all esteemed enthusiasts and collectors around the world.